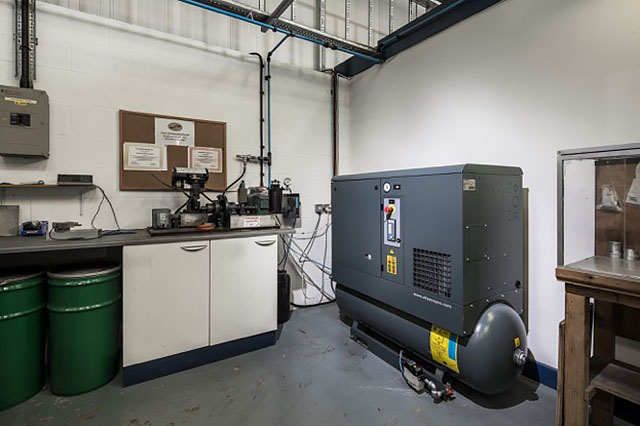 A new compressed air and pipework installation is boosting productivity at Brinkley-Propeller's purpose-built maintenance and repair workshops in Bedfordshire.
Operating from state-of-the-art 14,250 sqft premises in Stanton Business Park, Biggleswade, Brinkley-Propeller has gained a worldwide reputation. It recently expanded both its site and capabilities by adding aircraft landing gear, brakes and wheels service, as well as an approved non-destructive testing division that supports aviation, motorsport, marine, and space and satellite industry organisations.
An Atlas Copco GX11 FF compressor and a complete AIRnet modular pipework system, supplied and fitted by distributor Anglian Compressors, is supporting the firm in providing high quality work with a fast turnaround.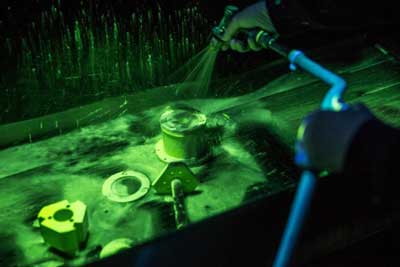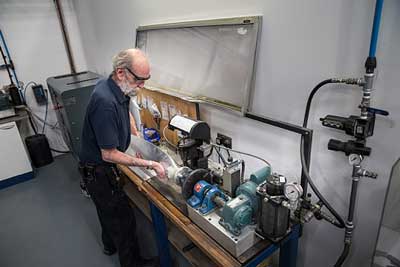 Brinkley-Propeller director Darren Carter said: "We needed a reliable compressed air system that would give us flexibility for future growth, as we are looking to extend our customer base further into Europe, the Middle East and certain developing countries. Cost and downtime are key issues for customers. Our facilities have been purposely designed to enable us to work efficiently and deliver turnaround schedules that are consistently on time and budget."
The company's old compressed air system, with galvanised pipework, was unreliable, and pressure drops were affecting output. Improved air flow was a priority. The company considered a number of suppliers' offerings before choosing the solution proposed by Anglian Compressors.
Anglian installed an energy-efficient Atlas Copco GX11 rotary screw compressor with integrated dryer, to provide a 7.5bar quality air supply for the company's air tools, component pressure testing and spray finishing operations. Compressed air is delivered to point of use via a complete new AIRnet ring main with multiple short drops to individual workstations.
AIRnet is a modular piping system designed for compressed air, vacuum, and other inert gas applications from the source to the point of use. Low-friction internal bore and seamless connections minimise pressure drop, thus effectively reducing the cost of ownership.
Atlas Copco says that, through intelligent design and the use of lightweight materials, AIRnet can be installed and fixed to walls and ceilings 70% faster than conventional systems. For many industrial applications, AIRnet pipes and fittings can be assembled by a single installer without the need for heavy machinery. All components are easily adjustable and re-usable to allow future network extensions.
Mr Carter said: "As cost efficiency is always at the forefront of our decision making, we felt the investment in this system produced the right solution. The brand has a reputation for quality and reliability and that was important to our long-term plan."
---
compressor.sales@uk.atlascopco.com
www.atlascopco.co.uk/compressorsuk