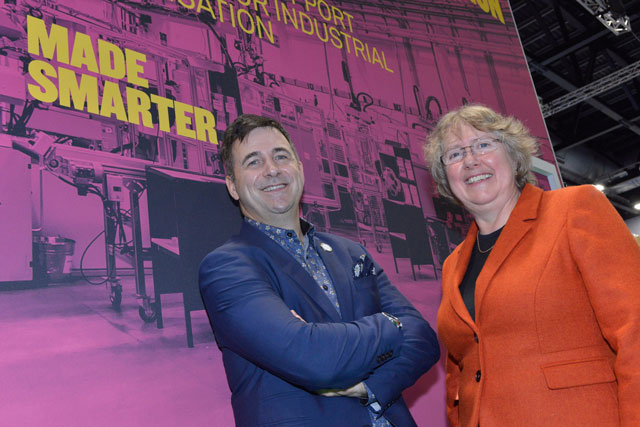 A £20m government/industry initiative to help manufacturers in the north-west of England to adopt digital technologies and boost productivity was launched this week in Liverpool.
The Made Smarter North West programme will aim to assist and encourage small and medium companies to adopt digital technologies including robotics, artificial intelligence, 3D printing and the internet of things.
The initiative will work with 3,000 businesses in Cheshire and Warrington, Cumbria, Lancashire, Greater Manchester and the Liverpool City Region.
Companies that get involved in the project will get the chance to access match-funded support and advice regarding how digital technology could revolutionise their manufacturing processes. Around 600 North West manufacturing companies will also qualify for more intensive business support, gaining access to match-funded grants, bespoke consultancy, mentoring and other resources to help them accelerate commercial growth.
It is anticipated that by becoming a test-bed for new technology and advanced processes, the region's manufacturing sector could generate a 25% increase in productivity and add £115m to the North West economy. Made Smarter could also help to open up new markets, increase exports and create thousands of high-skilled jobs.
The initiative will be overseen by the Made Smarter Commission, a partnership between the Department for Business, Energy & Industrial Strategy and the private sector. Co-Chaired by business secretary Greg Clark, and Siemens chief executive Juergen Maier, the commission includes representatives from 17 leading UK manufacturers, technology companies and business representative bodies. Donna Edwards, managing director for business support at Manchester-based Growth Company, will act as coordinator.
Mr Maier said: "Made Smarter has the potential to start a new industrial revolution for manufacturing and to be a catalyst for new investment in the latest digital technologies. I believe this is truly a once in a generation opportunity to boost productivity and create the high value, highly paid jobs of the future."
Business Secretary Greg Clark said: "With Made Smarter North West we are giving 3,000 manufacturers across the region advice and grants to give them the tools and resources needed to transform the way they do business and pioneer technological innovation in manufacturing."
The initiative follows an announcement in the recent budget that up to £121m of additional Made Smarter programme funding would be made available across the country as part of government's £1.1bn Industrial Strategy Challenge Fund.
---
Meanwhile a new EEF report, Reinventing the Manufacturing Workforce, warned that manufacturers would have to use their shrinking workforce more effectively to cope in an world of automated technologies.
Business leaders would have to be more innovative in their use of the existing employees and introduce re-training schemes in crucial areas such as AI and digital innovation. Initiating a proper workforce plan, to analyse employees' skills and where they can be used to best effect, would permit the best use of human capital. Such a plan would also help identify those employees who would most from the opportunity to retrain and upskill. However, only 32% of manufacturers surveyed had a workforce plan.
Among other recommendations, the EEF called for the newly announced National Retraining Scheme to prioritise workers with existing transferable skills to adapt to the digital technologies of the future in sectors. It also called for the Apprenticeship Levy to be reformed to face the challenges of digitalisation and Al.
---
www.eef.org.uk/resources-and-knowledge/research-and-intelligence/industry-reports/reinventing-the-manufacturing-workforce