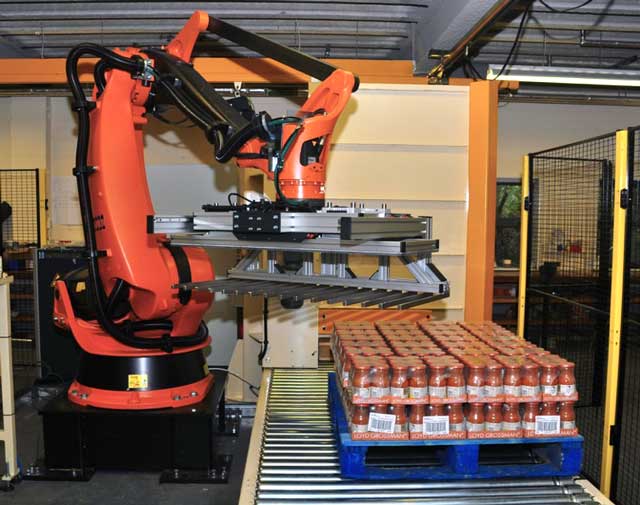 The British Automation & Robotics Association has launched an accreditation scheme for robot integrators to encourage the take-up and safe use of robots in industry.
The Robot Integrators' Certification Scheme is an adaptation of the one introduced by BARA's US counterpart, the Robot Industries Association.
Its aims are to help integrators demonstrate their capabilities and differentiate themselves, to help users find qualified integrators and to build trust and quality. The scheme was developed with input from robot users and system integrators.
The certification scheme will require integrators to demonstrate that they perform a risk assessment on every system they install, in accordance with relevant standards. Integrators will undergo a detailed on-site audit to certify the use of best practice and confirm their capabilities and experience. Individual personnel will be tested to verify their knowledge and experience levels. A key aim will be to make sure that integrators understand the robot safety standards.
Although over the last decade the trend in robot sales has been upwards, there was a peak in 2012, and the figure in 2018 was 15% down on 2017.
UK productivity lags behind competitors, and the UK has only 42 robots for every 10,000 employees, compared with 191 in Germany and 180 in Sweden.
"We need to do something different to close the gap," said BARA chairman Mike Wilson.
He said that in the UK many saw collaborative robots (cobots) as a solution, on the basis that they are easier to install – this is often done by the user, whereas industrial robots need professional integrators to install them – and more flexible. But Mr Wilson warned that they are not the answer to everything: cobots are slower, less precise, and still need a proper risk assessment.
Mr Wilson said: "There are systems being installed today that aren't safe because users don't know any better."
He added that good integrators are busy, and there are relatively small numbers of them in the UK. Users lack the capacity to identify opportunities for robot automation or produce a requirements specification, and tend to have limited knowledge of safety standards, how to perform a risk assessment, or to select a supplier.
"We hope the scheme will increase the capabilities of robot integrators in the UK," Mr Wilson said.
He added: "We want UK manufacturers to be competitive, and the key to success is investment in automation."
---
Companies wishing to gain certification under the new RIA / BARA scheme will be able to download an application form from www.bara.co.uk/certification from April 2019.