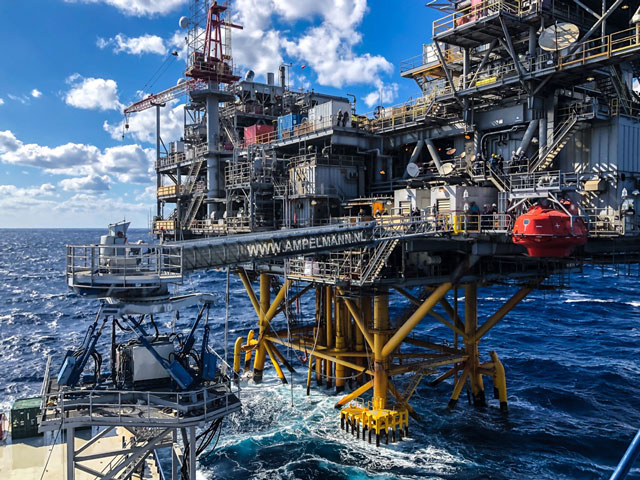 Dutch offshore access specialist Ampelmann has mobilised a motion compensated gangway system for maintenance work on an oil and gas platform in the Gulf of Mexico.
The work is being carried out under a contract with marine transport company Harvey Gulf secured from Ampelmann's office in Houston, Texas.
The A-Type system has been installed on the Harvey Blue Sea supply ship and is due to operate for 120 days. The system is claimed to offer an unparalleled track record in the "walk to work" (W2W) industry.
W2W manning of offshore facilities is an alternative to the traditional means of transfer such as by helicopter, basket transfer or boat landing. The A-Type makes it possible for personnel to transfer safely from a vessel to a fixed or floating offshore structure in high sea states. Because of its full motion compensation, there is no movement in the gangway during operation.
It is designed to transfer 20 personnel in under five minutes as well as move cargo loads up to 100kg from vessels to offshore structures. To date, the system has enabled the safe transfer of more than 3.4 million people on 200 projects, many for some of the key oil majors globally.
For the Harvey Blue Sea contract, which started in mid-April, the A-type was installed on an Ampelmann 10m pedestal, making it possible to reach landing locations of 20m and higher. Ampelmann will be operating on a 24/7 basis, providing its client with greater time flexibility and an extended weather window.
Ampelmann's Americas sales lead Gus DeOliveira said: "We are very excited about the collaboration, as this is the first time we are working with one of the prestigious US vessel owners."
Harvey Gulf chief executive Shane Guidry said the partnership with Ampelmann would broaden the services that Harvey's construction vessels already provide. "Today we jointly have work bid throughout the US Gulf of Mexico, Guyana, and West Africa and we look forward to providing safe excellent service to all our clients globally."
Ampelmann also recently secured its first contract in Mexican waters, where another A-type system is enabling the installation of an oil and gas platform. It has also been operating in Trinidad & Tobago since 2010 and, more recently, in Brazil and Venezuela.
---