A new Lifting Equipment Technician apprenticeship could be launched later this year following development of the draft proposal for an occupational standard by the lifting equipment industry's Trailblazer Working Group (TWG).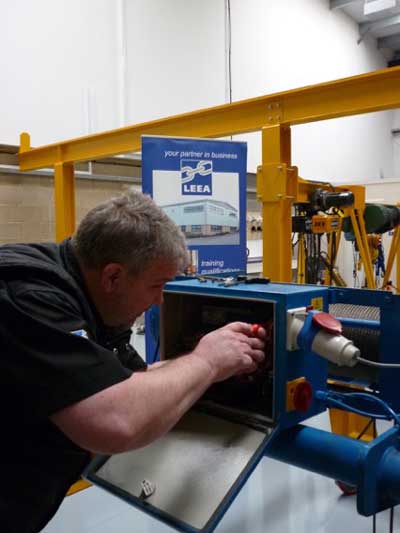 The role of lifting equipment technicians is to repair, maintain, modify, inspect, test, install and assemble lifting equipment to ensure its suitability and safety.
The TWG – convened by the Lifting Equipment Engineers Association – worked with Sarah Walker of the Institute for Apprenticeships & Technical Education to develop the proposal.
It aims to produce a usable specification and launch it by this November. The apprenticeship is expected to be set at Level 3 and the duration is provisionally 18 months.
The TWG group will reconvene this month to discuss plans for the end assessment, and it will also seek training providers. Meanwhile the draft proposal will be circulated among employers to check it is fit for purpose for the lifting industry. The proposal will then go back to the institute and the TWG to establish whether any further amendments are required.
LEEA learning and development projects specialist Baz Trewhella said: "This development is a particularly vital solution for an ageing lifting industry that currently attracts too few young people. It is important that we market this new apprenticeship at the right level and integrate it with LEEA's new Think Lifting school engagement programme."
The recently launched Think Lifting initiative aims to bring the opportunities of entering the lifting industry to the attention of pre-option secondary school children aged 11 to 13, with LEEA members engaging with students locally.
LEEA chief executive officer Ross Moloney said: "Finding the next generation of engineers is one of the most pressing concerns in our industry, which comprises a set of very specialised and technical occupations where skills cannot be transferred easily. We want schoolchildren to understand how being an engineer is a skilled, attractive and varied occupation, where they can find themselves on site doing a multitude of tasks."
Students interested in a career in the sector will have a pathway into the profession via the new apprenticeship. LEEA plans to provide members interested in getting involved in the initiative with free training and a set of tools with which to provide demonstrations and allow pupils themselves to get involved in solving problems.