Banner has expanded its range of safety devices with a new safety controller, a laser scanner and RFID safety switches.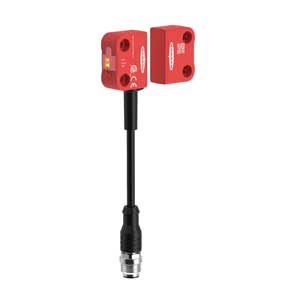 Safety switches monitor moveable guards that separate employees from a machine or other hazard. The new SI-RF series of safety switches use RFID technology and have a number of advantages over conventional switches, including built-in diagnostics. SI-RF switches are available in single or cascadable types, allowing up to 32 sensors to be connected.
In a typical application such as a series of sliding doors or removable panels around a machine, an active switch will be matched with a passive tag on the adjacent panel, and the SI-RF can be configured in three ways to cover all eventualities. In the simplest version, the panels can be assembled in any order, useful if the machine has interchangeable panels which can be removed for maintenance but it is not critical which panel goes where. In the second option, the safety switch is programmed to look for one of a series of tags. In the third option the switch will only accept a unique tag. This prevents operators defeating the switch, and operating the machine without the guards properly in place.
Diagnostics can be displayed on a PC and include the number of times the doors have been opened – for example, in food and drink this would help to ascertain whether a machine has been cleaned at the correct intervals. The device has a tolerance of 10mm to misalignment but displays this on the screen, warning, for example, when hinge wear is starting to prevent a satisfactory fit.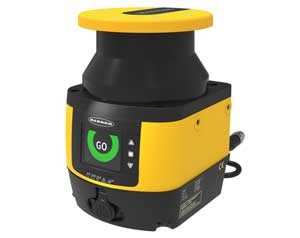 The new SX5 safety laser scanner continuously scans a 275o area to create a two-dimensional protected zone around a hazard, and activates safety relays to stop a machine operating if an intrusion is detected. The SX5 can be configured by PC and the safety zone can be set to match the shape of any work area. This can be done manually or the SX5 itself will "learn" it from what it can detect, ignoring, for example, fixed metalwork around a machine. The zone can be set to up to 5.5m at 70mm resolution or 3m at 40mm resolution. A warning zone of up to 40m is also selectable.
The scanner could be used on an automatic guided vehicle where it could be programmed to allow a forklift working on one side but still be triggered by a person on the other side. Similarly it can be programmed to create an alarm if it detects a person but ignore an AGV. The screen display identifies where in the zone a warning has originated.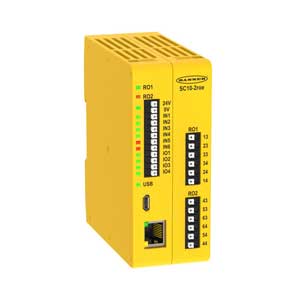 The SC10 safety controller series fits in Banner's range between the fully programmable SC26, launched two years ago, and standard safety relays. It replaces two or more safety relay modules and has an intuitive user interface with advanced diagnostics.
Each unit has two 6A relay outputs with three sets of contacts, enabling the creation of independent safety zones with unique outputs for different safety functions. It has 10 inputs, including four inputs that can be converted to outputs for more efficient terminal use.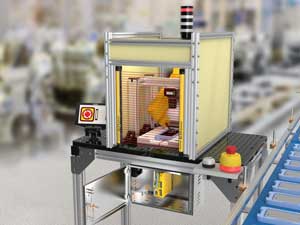 The unit can be programmed directly on screen using drag-and-drop configuration, or a configuration created using the software can be transferred to an external SC-XM3 drive and then downloaded to the SC10 by inserting the drive into the SC10's USB port.
The SC10 eliminates the need for complex wiring and has the added advantage that a record of the ladder logic and interconnections is saved by the software, simplifying diagnostics and future maintenance. Turck Banner managing director Peter Gardner says: "The SC10 will be accessible to installations using smaller or simpler machine installations, where the SC26 might be over-specified."
---