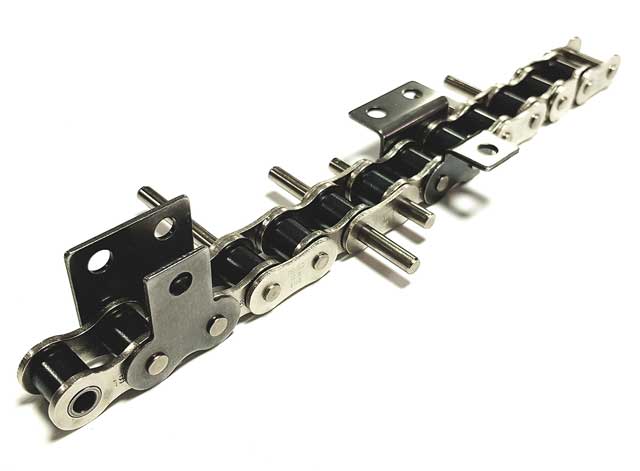 A lubrication-free transmission chain, available with a range of attachments and a fast one-week turnaround service, has been launched by Renold Chain. The new chain is designed around the company's innovative Syno lubrication-free technology in a standard steel bush-roller chain.
Renold's lubrication-free technology features a sintered bush that contains a specially designed lubricant. The lubricant is released on to the bearing surfaces while the chain is in operation. When the chain stops, the lubricant returns to the sintered bush, rather like a sponge soaking up water.
This keeps the lubricant within the chain where it belongs, and is suited to applications where the presence of lubricant is undesirable, or where lubrication is difficult or impossible. Under normal operating conditions the chain should not require any additional lubrication during its lifetime.
The new chain, branded Renold Low Maintenance, is assembled with attachments at the company's UK Chain Centre to customers' specific requirements. It is available in a range of four sizes in simplex, duplex and triplex, from half inch to one inch pitch, and with a choice of K1, K2, M1, M2 and extended pin attachments. Other sizes and attachments are available, but not within the one week supply service.
Renold Low Maintenance is ideally suited to applications where lubricant must be kept away from the end product, but where corrosion resistance and the other features of Syno are not required. These typically include packaging machinery and equipment, paper manufacture, printing, and electronics.
---
For more information:
www.renold.com, info.uk@renold.com or 0161 498 4600