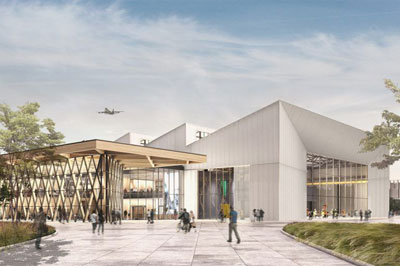 Work has started on a new manufacturing district in Scotland which will create thousands of new jobs for the sector.
The Advanced Manufacturing Innovation District Scotland (AMIDS) will be based next to Glasgow Airport. It is expected to create up to 6,000 jobs and boost Scotland's manufacturing sector by £535m in GVA annually.
The district, the only one of its kind in Scotland, aims to be internationally recognised for advanced manufacturing, leading innovation, research and sustainable growth.
The development is being led by Renfrewshire Council with the Scottish Government and Scottish Enterprise. At its heart will be Netherton Campus, a 52-hectare site which will be the location of the National Manufacturing Institute Scotland and the Medicines Manufacturing Innovation Centre.
The campus aims to provide an environment that fosters collaboration and promotes sustainability, with the potential for up to 1.6 million sq ft of commercial floor space.
The University of Strathclyde is the main university partner of the £65M National Manufacturing Institute Scotland and research partner in the £56m Medicines Manufacturing Innovation Centre.
Professor Sir Jim McDonald, the university's principal and vice-chancellor, said: "The Advanced Manufacturing Innovation District Scotland will play a hugely important role in attracting investment in research and development in the manufacturing sector and in developing and sustaining the skills required by industry. At Strathclyde we're incredibly proud of the highly-successful model we've developed for working with business, industry, academia and the public sector to make a positive impact on society and drive economic growth."
He added: "We are enthusiastically involving universities from across the country to bring engineering and technology expertise to bear in achieving the enormous potential of AMIDS."

A groundbreaking ceremony last month was attended by Derek Mackay, Scottish Government cabinet secretary for finance, economy and fair work, Renfrewshire's provost Lorraine Cameron, Scottish Enterprise chief executive Steve Dunlop and local Inchinnan Primary School pupils.
It marked the start of work on constructing the connecting infrastructure, which includes new roads, bridges, cycling routes and pedestrian walkways, via the £1.13bn Glasgow City Region City Deal, jointly funded by the UK and Scottish governments. This is scheduled for completion in early 2021, when the NMIS is also scheduled to be operational, and will also strengthen connections to nearby Westway Park, Scotland's largest fully enclosed industrial distribution and office park, and to Inchinnan Business Park, where more than 30 businesses including Rolls Royce, Peak Scientific and the University of Strathclyde's Advanced Forming Research Centre are located.