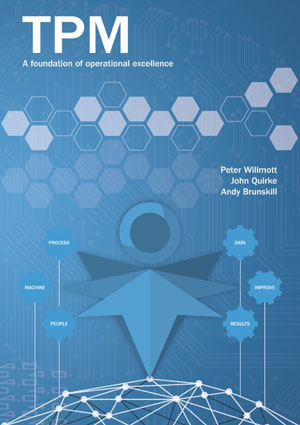 A new and comprehensive guide to achieving the operational benefits of the TPM system of work,
TPM – a foundation of operational excellence is a primer which will appeal equally to experienced practitioners and novices alike.
Its 200+ pages are packed with information in which the authors set out to show how TPM can deliver a business's vision, values and aspirations.
Authors Peter Willmott, John Quirke and Andy Brunskill are all highly experienced in applying TPM and continuous improvement in industry and the book draws heavily on their insights.
Starting from first principles it explains the origins of TPM – from the need to make an organisation's machines, processes and systems, and hence its employees, highly reliable. It argues that TPM should be thought of as "Total Productive Manufacturing" rather than "Total Productive Maintenance" – the latter giving the incorrect impression that TPM is an initiative driven by maintenance functions.
"TPM is driven by manufacturing & operations, which pick up production and maintenance as equal partners. It is no longer appropriate to say 'I operate, you fix' and 'I add value, you cost money'," the authors argue.
This leads to an emphasis on teamworking and culture change – a focus on people runs throughout the book. Starting from an overview of the founding principles of TPM, the authors go on to consider the challenges facing the maintenance function, the purpose of TPM, the process and how TPM is an enabler of operational excellence.
The authors describe five key aims as:
To provide a practical guide to how to deliver sustainable benefits using TPM;
To describe how TPM can deliver a company's vision, values and aspirations;
To position TPM as a foundational element of sustainable operational excellence and illustrate how it can align with the principles of the Shingo Model for a culture anchored on principles of operational excellence.
To recognise that Industry 4.0 is a powerful enabler, but that it is people who will continue to make the difference
To help organisations understand the likely resource commitments of people, money and time of running a TPM programme, and how to prepare a compelling business case.
The book is aimed at three target groups in the business enterprise:continuous improvement and engineering specialists; the business leadership team; and practitioners at the sharp end of the enterprise.
The text is organised in easily accessible chunks, with a wealth of diagrams and illustrations, numerous case studies and an emphasis on breaking down improvement processes into steps and milestones.
Overall, TPM – a foundation of operational excellence is a must-read document for anyone seeking to improve the efficiency of their manufacturing operations.
---
TPM – a foundation of operational excellence. Peter Willmott, John Quirke and Andy Brunskill. Published by SA Partners, 2019. ISBN 978-1-9993748-1-5. £39.99 with a £2 donation shared between Friends of Chernobyl's Children and The Prince's Trust for each copy sold.