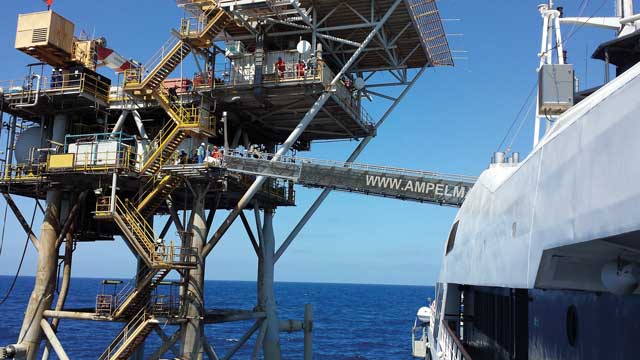 Factors including a drive to improve safety are opening up alternatives for transferring staff to offshore installations. Hamish Holt, senior principal consultant, DNV GL outlines the 'Walk to Work' initiative.
When commuting to work, most people take their choice of transport for granted. But for people working offshore the choice is very limited. The usual mode of transport for the offshore workforce is helicopter, or where locations are close to shore, small workboats.
In recent years, with the drive to safely reduce costs, operate in more remote locations, extend the life of ageing assets, and install and maintain offshore wind infrastructure, current manning approaches – as well as offshore operations in general – have come under intense scrutiny.
Marine access to offshore facilities, where personnel transfer to and from their workplace over motion compensating gangways, is becoming an increasingly common alternative to helicopters.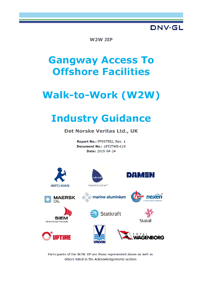 Evolving personnel transfer
In April 2015, DNV GL, the technical adviser to offshore industries, released industry guidance Gangway Access to Offshore Facilities – Walk-to-Work (W2W).
The guidelines were developed by DNV GL in a joint industry project involving 15 companies and three regulators. They shared the goal of producing a comprehensive reference source to help offshore operators and W2W solution providers achieve safe and efficient personnel transfers to offshore facilities via a gangway system on a workboat, ship or semi-submersible unit.
Gangway systems essentially form a bridge between two vessels or between a vessel and a fixed object to transfer people, cargo or equipment. They can take many forms, ranging from permanently installed links between accommodation units and production assets, to temporary walkways between service vessels and unmanned installations such as offshore wind turbines, offshore fish farms and wellhead platforms.
W2W manning can offer many significant benefits including lower costs, improved safety, more flexible delivery of staff and, depending on the vessel, opportunities for providing additional accommodation, cargo facilities, rescue capability, subsea inspection, fabrication workshops and helicopter facilities.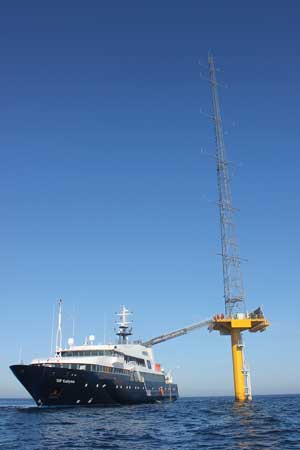 Safe, economical and sustainable travel
Over the past decade several personnel transfer specialists have emerged alongside the construction of dedicated W2W vessels.
Dutch offshore service provider Ampelmann, for example, has developed sophisticated gangway systems with full motion compensation that have allowed the safe transfer of 5.5 million people and nearly 12 million kg of cargo worldwide since 2008.
To achieve a safe and reliable W2W solution takes careful planning, system integration and collaboration across disciplines. It is essential to understand and optimise how the combination of vessel, gangway and facility will operate together in the seas around the facility. Aspects such as vessel hull shape, gangway performance, gangway location on the vessel, and access points on the facility can make the difference between getting people to and from their worksite and having to wait for more suitable weather.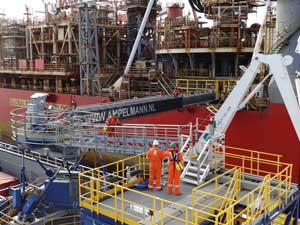 Assuring gangway safety
A gangway is safety-critical. A fault or failure could result in personnel falling into the sea between the vessel and the installation.
Recognising that there was a lack of certification for gangway systems for offshore applications, DNV GL launched in December 2015 the certification standard DNVGL-ST-0358 – Certification of Offshore Gangways for Personnel Transfer.
This provides criteria and guidance for certification and verification of the design, materials, fabrication, installation, testing and follow-up of gangways used offshore. Ten gangway systems have been certified since the launch of the standard.
Continuous development and improvement of industry guidance, rules and standards for the offshore industry is an essential activity, and DNV GL will imminently be launching an enhanced scheme for the qualification of offshore gangway control systems. This extended system certification will be focused on software integrity assurance based on simulator testing.
---
More information: www.dnvgl.com/oilgas/joint-industry-projects/ongoing-jips/walk-to-work-w2w-guidance-jip.html
email: Hamish.holt@dnvgl.com