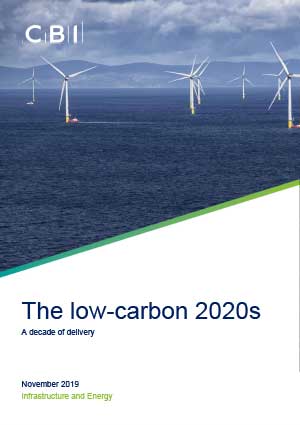 The next government should start ambitious and focused action to tackle the climate emergency, said the CBI director-general Carolyn Fairbairn this week.
Speaking at the CBI's Energy and Climate Change Conference she said the year between now and the UN COP26 meeting in the UK should be used as a year of action.
Ms Fairbairn called for all political parties to agree and put into effect a long-term national plan to combat climate change. She outlined three key steps the government must take to unlock business investment to reach the UK's target of net-zero greenhouse gas emissions by 2050.
Marking the launch of a new CBI report, Ms Fairbairn called on the government to promote renewable and nuclear energy, set out plans to make transport and heating networks green, and include consumption emission rates (the emissions created by products imported into the UK from overseas, like phones and TVs) in the UK's greenhouse gas emission figures.
Ms Fairbairn said that business and the government must work together to tackle climate change: "To tackle the climate emergency in the time we have, we need to go faster and further than ever before.
"The next ten years will be crucial. With the technology advancing rapidly and costs falling, the goal of a net-zero future is achievable. But the truth is that nobody has done anything on this scale before. Business can't do it alone. It must be done in partnership with government every step of the way. It needs a tangible vision, and measurable plan to work to."
The new report, The Low Carbon 2020s – a Decade of Delivery, sets out the action CBI members see as essential to the UK's low-carbon success in the next ten years.
Ms Fairbairn called on the government to make 2020 a year of action, adopting the UN COP26 climate change conference in Glasgow in November next year as a deadline. "Let's see how much we can achieve in the next 12 months," she said.
She called on the government to set out its plans to turn the UK's transport networks and heating green, and to scale up the deployment of emerging decarbonisation technologies, such as carbon capture, use and storage and hydrogen-based solutions.
On emissions she said: "The UK has a strong story to tell on reducing the emissions we generate here. But what about the impact of the TVs, mobile phones, clothing and goods we buy that are manufactured overseas, which isn't currently counted? We can't solve the climate emergency by making it someone else's problem. We believe it's time for government to include both production and consumption emission rates in its official greenhouse gas figures." She called on the next government to bring forwards "a realistic, long-term national plan that secures agreement from all parties to deliver it".