The biennial co-located events; Plant & Asset Management, Drives & Controls, Smart Industry Expo, Fluid Power & Systems, and Air-Tech Exhibitions – are once again set to return to Birmingham's NEC between the 21st -23rdth April 2020, alongside MACH 2020.
Plant & Asset Management 2020, the UK's premier event for plant, asset, maintenance and works management engineers and directors, will once gain again bring together key suppliers of state-of-the-art equipment representing the multi-tasking culture of today's engineering professionals.
Industry spends huge sums of money maintaining its plant, machinery and building assets and, because of constantly increasing business and financial pressures, there is an on-going need to achieve the maximum performance from those assets.
Plant & Asset Management 2020 will therefore showcase the very latest in condition monitoring, CMMS, outsourcing/contract maintenance, energy efficiency, boilers/burners/combustion, handling and storage plus much more.
Current exhibitors include Ultimo, SolutionsPT, SPM Instrument, Fluke, UE Systems, Keytracker, Clockwork IT, Seepex, SimPro Software, and DCO Systems plus many more. In addition The Society for Operations Engineers (SOE) will be having a major presence at the event, where it will be promoting efficient and environmentally sustainable operations engineering, through the support of best practice, health and safety initiatives and a commitment to the professional development of its members. New for 2020 is the significant announcement that the Manufacturing Technology Centre (MTC) has confirmed a 100m2 pavilion at the heart of the co-location of events, where it will be joined by its members.
Co-location
Running alongside Plant & Asset Management as part of the co-location of events will be Drives & Controls Exhibition 2020, covering critical areas such as energy efficiency, machine safety, drives, motion control, robotics and automation plus much more, all under one roof. In addition, and to complement Plant & Asset Management and Drives & Controls Exhibition, is the now firmly established Smart Industry Expo, where visitors will have the ideal opportunity to learn about digitalisation and how to prepare and implement a strategy in this smart era as well as being able to discuss a wide range of issues from components to Predictive Maintenance 4.0, Logistics 4.0, and smart grid technologies amongst others.
Air-Tech 2020, also returns to the co-location,which is set to highlight current key themes related to the very latest in air compressor and related technology from companies from around the globe. While Fluid Power & Systems 2020, will focus on a comprehensive range of hydraulic and pneumatic equipment, together with products that facilitate better electro-mechanic system design and application for improved process automation, control, monitoring and analytics.
DIgitalisation and Engineering Forums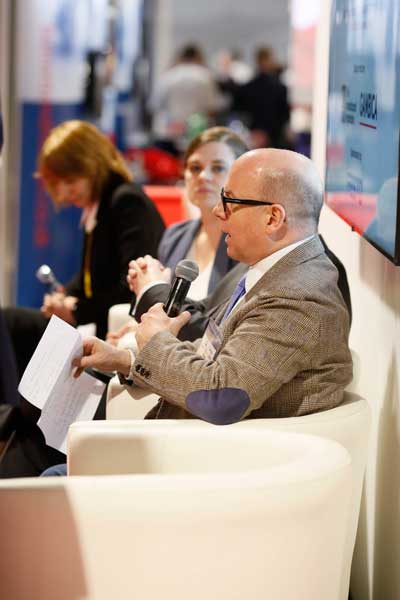 At a time when engineers are under increasing pressure, and time out of the office for attending exhibitions needs to be balanced against heavy workloads, one growing justification is attending a well-balanced and focused seminar programme where gaining further industry knowledge is at the core.
Located at the heart of the 2020 co-location are The Digitalisation and Engineering Forums. With a strong emphasis on technology, The Engineering Forum will bring together all aspects of plant and asset management, hydraulics, pneumatics, robotics and automation, energy efficiency, machine safety, drives, motion control, legislation, system strategies and technological developments. Featuring representatives from across industry including government agencies, research bodies, trade associations, and manufacturers.
While The Digitalisation Forum, sponsored by Pilz, will fully reflect the ongoing global transformation to the smart manufacturing era and provide a fascinating insight into the potential plants of the future, covering all aspect of the digital transformation across the manufacturing spectrum. Leading expert will address the vast array of information around 4IR, discussing the practicalities, technologies and issues surrounding transition and implementation of digitalisation in UK manufacturing. Over the course of the three-day seminar programme, visitors will have the opportunity to learn how they can seize the opportunities that exist and promote the benefits of adopting emerging digital technologies.
The variety and scope of both Forum programmes for 2020 is extremely exciting, adding real value. The combination of leading manufacturing events, with a highly engaging seminar programme, will give visitors a genuine opportunity to keep abreast of the latest industry developments.
---
For regular show updates, full Digitalisation and Engineering Forum seminar programmes and to register to attend, please visit the official website: www.maintenanceuk-expo.com