Pedestrian-operated materials handling equipment is more versatile than many realise, and can improve safety, says Martin McVicar, chief executive and co-founder of Combilift.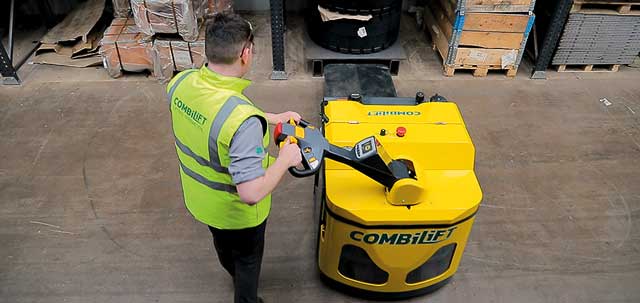 Pedestrian-operated materials handling equipment was once regarded as only suitable for pallet handling and was seen as less efficient than ride-on trucks, in which drivers often whizz around the premises with their various loads.
But this has changed, thanks to technological developments and the increased lift capacities of walk-behind machines such as stackers and powered pallet trucks. A major reason for their growing popularity is the improved safety they can guarantee, not just for the operator but for other personnel working in the vicinity, in busy areas of manufacturing plants for example.
Although safety is a high priority, there is still an average of 1,500 injury accidents involving forklifts every year in the UK. So any equipment that reduces risks to the workforce is to be welcomed. Combilift spotted the emerging trend towards pedestrian trucks around eight years ago and set out to provide innovative solutions.
The choice now includes counterbalance and reach style stackers, including multidirectional ones, which offer versatility because they can handle a mix of long products and palletised loads.
As pedestrian equipment is operated at slower speeds than ride-on forklifts, usually a maximum of 4km/h, it has much less potential for causing accidents. Operators working at ground level are more aware of their surroundings compared with someone sitting in a raised cab, and this improves safety for everyone on site. It is also quicker and more economical to train operators to use pedestrian equipment because there is no need for accredited ride-on forklift training. A further benefit is that there is much less risk of damage to the product being carried.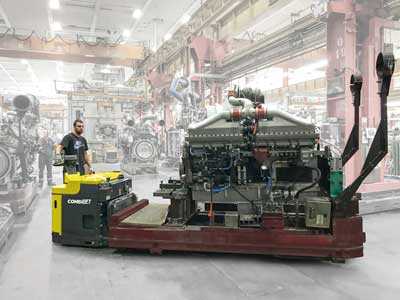 Customer feedback has long influenced product development at Combilift. Its first high capacity powered pallet truck – the Combi-PPT – was developed in collaboration with Cummins UK. The customer wanted an alternative to forklifts that could also work in restricted areas at its Daventry plant, thereby allowing the safe movement of assembled engine units weighing 16t from production to the testing and despatch areas.
For a truck that can offer such a high lift capacity and overall performance, the PPT is surprisingly compact and easy to operate (thanks to power steering, dual rear-wheel drive and AC motor technology). The traction module, which includes all the powered components and operating system, is just 920mm wide by 1100 mm deep. The length of the lifting platform was customised for Cummins' specific loads, in this case measuring 3175mm.
This allows the engines and other large loads to be moved in and around the factory without the need for "redundant" areas to be set aside for manoeuvring as would be the case with other heavy duty equipment. More space can therefore be given to storage, with increased productivity.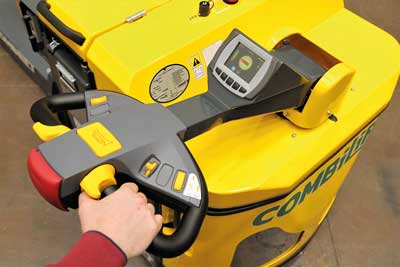 Following the success of this initial model, serial production was started and Combi-PPTs are now available with lift capacities from 3t upwards.
The Combi-PPT includes a feature incorporated in all Combilift's pedestrian models: its unique, patented multi-position tiller arm. This can be turned to the left or right of the truck and enables push-button rotation of the rear wheel parallel to the chassis and back again. It allows the operator to remain in the safest possible position when working in narrow aisles – at the side of the truck rather than at the rear. This eliminates any risk of the operator being crushed or trapped between the truck and the racking.
The operator's sight line is not impeded by having to look through the mast, guaranteeing full visibility of the load, the forks and the overall working environment. The contribution that this feature has made to safer operations in the materials handling sector was recognised last September when it won the Industrial Vehicles Category of this year's BITA Design4Safety Awards.
---
www.combilift.com | Tel: 00353 47 800500