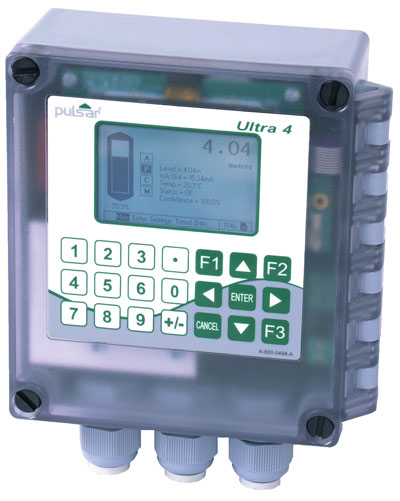 Pulsar Process Measurement are pleased to introduce a new addition to their Ultra Controller family. The Ultra 4 is a brand-new controller in the Pulsar portfolio and builds on the world-leading technology we have seen in previous products. The Ultra 4 offers the sophistication and advanced features of the rest of the Ultra range in a compact, cost effective package and useful new features make it even easier to set up and fine-tune. Offering, as the name suggests, four alarm or control relays (3 x SPCO isolated and 1 z SPNO solid state) and a multifunctional display while losing none of the easy set-up and configuration that has made the Ultra range the natural choice for non-contacting measurement world-wide.
Like the rest of Pulsar's 'transducer plus controller' ranges, Ultra 4 is compatible with both dB ultrasonic and dBR radar transducers. These non-contacting technologies are complementary – measuring by signal analysis but excelling in different situations. A major benefit to Pulsar customers is that they have the freedom of choice, so when the going gets tough in those applications where there is foam, high temperatures and vapors; the Ultra 4 is compatible with both ultrasonic and FMCW radar transducer heads.
This brand-new controller can be either wall or fascia mounted and includes all the major communication protocols that are widely used across the UK water industry. Like the rest of the Ultra range, Ultra 4 also offers in-built volume calculations based on standard tank shapes as well as advanced pump control and open channel flow measurement functions.
---
For more information on the Ultra family, please visit our website or contact us on +44 (0) 1684 891 371.