The Covid-19 emergency has led to wider acceptance of online and remote methods of working – but will there be lasting change? M&E's Editorial Advisory Board discussed. Report by David Fowler.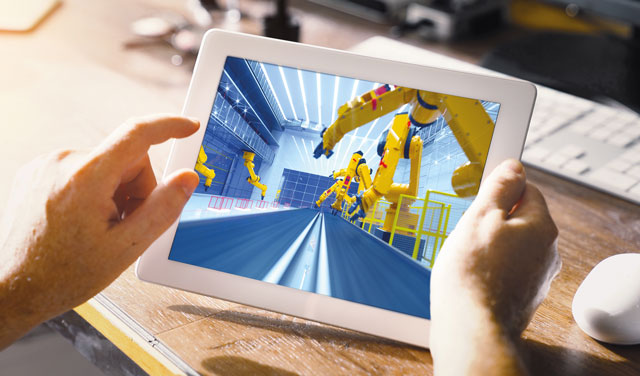 The Covid-19 emergency has transformed working practices throughout industry. Working from home has become for many people the normal state. Alternative, online ways of doing everything from holding meetings to undertaking training are being found. On site, to remain operational or restart operations, companies must abide by social distancing rules to keep employees 2m apart.
As it becomes more difficult or impossible for routine checks and monitoring of equipment to be carried out by an employee on a traditional walk-around inspection, an increase in interest in remote monitoring is reported by companies specialising in that field such as ABB (see p16).
But what does this mean for the long term? Will the current emergency have a lasting effect on how industry works? And can and should industry plan more effectively for similar low probability but high impact events in future?
This was the topic for a recent roundtable discussion of the M&E Editorial Advisory Board.
Chairing the meeting, Dr John Ahmet Erkoyuncu, director of the Through-Life Engineering Services Centre at Cranfield University, said: "Covid-19 has promoted an open mind to new ways of doing things remotely." His department had had three weeks to convert its MSc course in Through-Life System Sustainment to be delivered online.
He asked how maintenance had evolved in the crisis – was the emergency opening up new opportunities, new ways of thinking? Had productivity changed? And if lockdown had accelerated trends to online interaction and the digital domain, "are there opportunities to change the way we do things in future?" he asked.
Change of mindset
MCP Group uses AMIS, Asset Maintenance Improvement System, a process to benchmark companies against industry best practice. John Saysell, MCP head of business development and training, said this traditionally entailed a staff member spending three or four days at a client's site assessing its maintenance operations and practices. "Now we've developed an online tool to allow us to do the process remotely, with a follow-up visit of one day to take place in the future."
He added: "We've put some of our courses online, and we've been negotiating with Ofqual and City & Guilds to enable a remote invigilation process." More courses are expected to go online in the coming months.
Roy Davis, director of consultant MPI, said that typically before the crisis he would drive for two or three hours for a one-hour meeting and then drive back again. "Do we need to do this? For years I've worked five times more productively at home than on site." The view held by some employers that people needed to be in the office to work and could not be trusted to work remotely had been shown to be wrong.
Steve Johnson, vice-president digital for Engineering and Production Services at Petrofac, said: "Across our sector what was the norm is being challenged. Companies are asking what is the minimum footprint I need on different sites – they are keeping the core workforce running a facility down to a minimum, but using technology to provide remote accessibility to support that core workforce."
He said there had been a change of mindset – previously in situations where the company had sought to minimise the need to travel, this had been seen in a negative light.
He continued: "We've already been on a journey in the adoption of a range of technologies and that has accelerated. We've found new applications, for example managing key workers and reducing the need to send people to site by using over-the-shoulder support. Whereas traditionally we would have used a third party contractor to go to the site to help the team or do some verification activity, we're using technology to link teams remotely and avoid that non-core person being on the site."
But despite this acceleration, because the oil and gas sector has also been hit by the low oil price, the ability to invest in such technology could be constrained by the economic impact, he said.
Remote monitoring
Was the crisis causing an acceleration in the use of remote monitoring? Mr Johnson said: "I think there is going to be a trend to use more remote monitoring capability, predictive techniques." But he added that monitoring should apply to people as well: "The ability to monitor where people are around a facility, not only from a safety and productivity perspective but so that you can track that you're getting the right levels of social distancing on the work front – it's going to change the way you plan the scheduled work. Those are things we need to think about because we have a duty of care to the workforce."
Mr Davis said that many companies he worked with had well-integrated vibration monitoring systems and Scada systems. "The technology and systems to monitor processes from outside the workplace are there," he said. But it was felt that such systems are not always used effectively. Mr Johnson suggested that what was needed was "an overlay of new solutions that get more value out of the data and provide insights to the user without them having to interrogate," such as machine learning to create alerts, rather than individuals having to interpret the data.
However, it was also recognised that some companies were still "in a chaotic state" regarding maintenance, where they struggled to keep on top of even a reactive approach.
Increasing resilience
Dr Erkoyuncu said Covid-19 was a low probability event but with a "phenomenal" impact. Could industry learn how to improve resilience against future events of a similar nature? Should such events be included in business continuity plans?
Dr Peter Geake, technical director for asset and enterprise risk management at consultant Jacobs, said Jacobs had been working with a consortium of infrastructure companies to develop a range of tools to evaluate strategies for dealing with such events. "If you want to implement certain strategies to manage this risk, in a semi-quantitative, comparative way, how do you trade off all the interventions you could use in an organisation to find the best blend to protect your workforce but still preserve your key function? We've developed a toolset to trade off those various ideas. It's a typical asset management approach: if you're not sure what decision to make you use decision support to help you, and we've put together some mathematics to do that."
He added: "It's about how you prioritise your various strategies to preserve things and make sure your company can bounce back. You have to deal with a lot of uncertainties, so you have to cross-compare everything against a datum and it produces a relative ranking, but it does give you something that's auditable and defendable."
Dennis McCarthy of DAK Consulting said that as lockdown was eased and production re-started it would be important to have the right contingency plans. Equipment would have been idle for some weeks or months and companies would have to think about "how to make sure you're in a good position as you ramp up".
For people doing maintenance jobs in the workplace, Mr McCarthy said there would need to be a workplace risk assessment, permits to start work, and the need to maintain 2m distance.
He pointed out that there would be important decisions to make on policy regarding face masks. "Simple face masks were useful in preventing people from spreading the droplets that contain Covid19 virus, but you have to be wearing an N95 mask to prevent inhalation of those droplets." Policy concerning the wearing of N95 masks should take into account the airflow in the working areas, particularly if engineers were carrying out tasks in confined conditions. WHO figures showed that where the airflow was lower than around 5 or 6 air changes per hour, the infection risk was significantly higher.
Dr Geake said: "How you return to normal service and the strategy to do that will need a lot of work. Exploring various scenarios will become quite an important activity, especially if there's no vaccine in the foreseeable future."
---
Remote working – pros and cons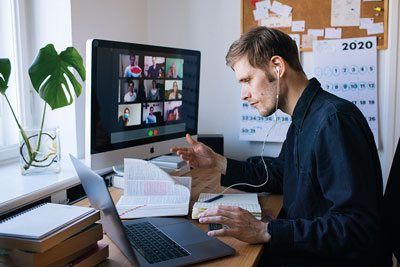 Dennis McCarthy, director of DAK Consulting, predicted an increase in micro-learning – using short videos similar to those seen on YouTube for specific tasks or skills. He added "We've tried sending a video as a pre-read before a meeting, and people are getting used to it. There are real opportunities for productivity."
There was a general feeling that online meetings were more productive. Mr Johnson identified three factors: it was easier to set meetings up, so more timely decisions could be made; they seemed to be more focused; and, when needed, an ad hoc meeting could be set up in less than 15 minutes to solve a specific problem.
However it was felt that, though remote working was acceptable where a working relationship already existed, it might be more difficult to use with new clients or in making a sale.
Steve Johnson of Petrofac added: "After two months at home I do miss the ability to go to a different location and physically see what clients are doing. I think we have to be careful the pendulum doesn't swing too far in the direction of being virtual. In the offshore industry, I can see a situation that individuals working in those environments could start to feel cut off."
Mr McCarthy added: "With a big project, having an actual interaction of the team can be beneficial."
It was also felt there were limitations in the use of technology for teaching practical skills. "We've had to look a lot more at what we want people to learn and how we confirm their understanding," said Cranfield's Dr John Erkoyuncu. Roy Davis of MPI added: "Trying to keep people's attention online for a two-day course would be impossible." He said that in face-to-face training it was easy to identify at the outset of a course which candidates did not really want to be there and would need extra effort to get them involved.
For courses that needed to be hands-on, MCP's John Saysell said his firm expected to resume these soon with safeguards including taking each candidate's temperature beforehand, maintaining social distancing, and wiping down all surfaces. "We're hoping to continue that quite soon, but it will be with much reduced numbers. After that our aim will be to move some of it to augmented reality."
It was also noted that many companies faced a problem of "knowledge capture". "In many organisations the people self-isolating are the most knowledgeable staff," said Mr Davis.
Mr McCarthy said another trend was using digital processes to improve workflow – for example giving an engineer in a remote location the ability to order a part and get it delivered without having to go to a central workplace or store to pick it up.