Join the virtual Asset Performance 4.0 Conference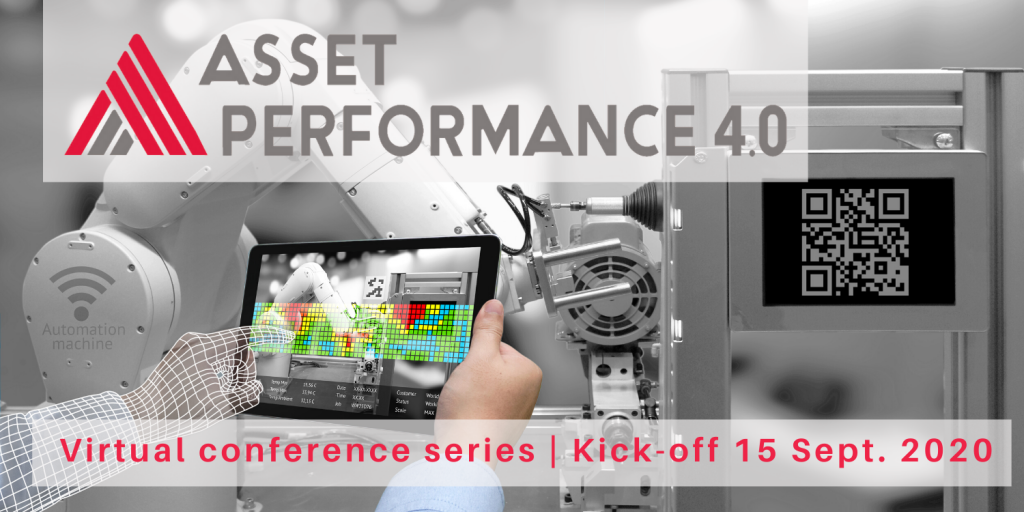 In current times of teleworking, BEMAS has decided to set up a virtual conference, offering a unique opportunity to learn all about Industry 4.0, IoT, Predictive Analytics… straight from your home or workplace. The Asset Performance 4.0 subscription formula offers a unique opportunity to continuously learn how new 4.0 technologies and fundamentals in operations, maintenance and asset management reinforce each other in order to achieve higher equipment reliability and cost performance in asset intensive industries.
3 day conference with use cases from the industry
At the Asset Performance 4.0 Conference, you can learn from the best. Not only solution providers take the virtual floor, but several asset owner lead by example and talk about their journey to 4.0, such as FrieslandCampina, Eastman, Aperam, Agfa Gevaert, Copenhagen Airport, CERN, and many more.
We also have 3 keynotes with deeper insights in store for you. In his opening keynote, Knud Lasse Lueth (CEO of IoT Analytics) talks about the Industry 4.0 trends before and after Covid-19. During the keynote by David Ariens and Jan Bollen (BASF Antwerp), you gain further knowledge about roadmaps to Industry 4.0 & how to tackle them in your company. Finally, the closing keynote by Terrence O'Hanlon (Chief Asset Manager, ReliabilityWeb), talks about Maintenance 4.0 and the hierarchy of Reliability 4.0, Asset Management 4.0 and Industry 4.0.
Hackathons with brand new technologies
Leading up to the conference, several companies took part in 3 hackathon challenges, set by 2 Belgian companies. Aquafin is responsible for the transport and treatment of household water. They were looking for a pump failure prediction system based on temperature and humidity sensor data. Fluvius manages the electrical and gas grids in Flanders, and is looking for an app that technicians can use in the field. They're also interested in a pump failure system.
On September 17th, you can witness the final presentations and discover new technologies that might be interesting for your business as well.
Extensive webinar program
After the 3 day conference, Asset Performance continues: you also get access to weekly webinars. On top of that, you can re-watch all presentations and webinars via the same platform. This means you get content about Maintenance 4.0 on demand: watch whenever you want, wherever you want.
Asset Performance 4.0 in a nutshell
More than 50 virtual exhibitors, available for more information, chats and calls
2 days full of instructive presentations on improving the performance of your assets on 15 and 16 September
Presentations on new technologies, elaborated for the hackathons of Aquafin & Fluvius, on 17 September
One year of weekly webinars starting 17 September
2 virtual mini–conferences in 2021
Register now
Individual tickets start at € 295
Company tickets (2 – 10 participants) start at € 495
More information on www.assetperformance.eu.