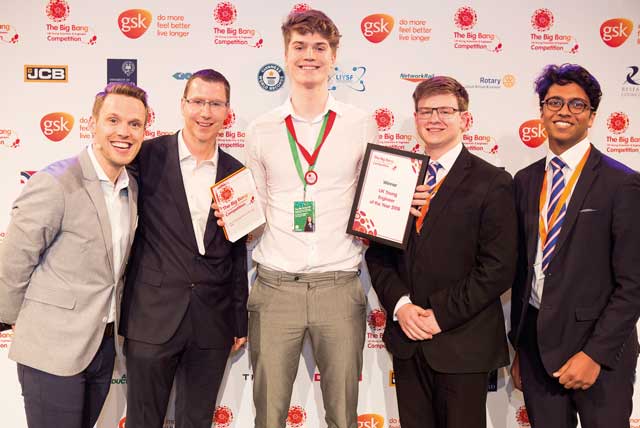 Josh Mitchell has been named UK Young Engineer of the Year for a project in which he created a flat-pack 3D printer costing only £49.
Josh, aged 18, from Holmes Chapel Comprehensive School in Cheshire, was presented with the award at March's Big Bang UK Young Scientists and Engineers Fair for his project, "The Plybot".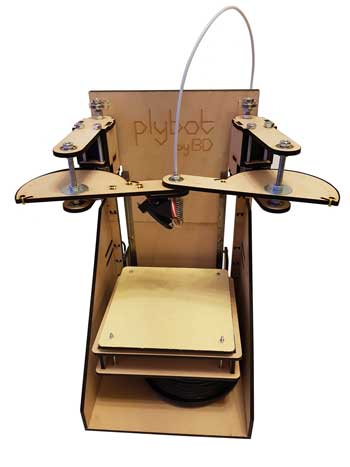 He aimed to prove that it was possible to build a 3D printer for a fraction of the commercial cost, which was easy to assemble at home and did not compromise on print quality. His final design fits, unassembled, inside two 13-inch pizza boxes and fits together using 18 bolts. It produces print-quality that is said to be indistinguishable from commercial 3D printers, and costs only £49.
The Big Bang Competition to find the UK Young Engineer and GSK Young Scientist of the Year, organised by EngineeringUK, is an annual contest designed to recognise and reward young people's achievements in all areas of science, technology, engineering and maths, as well as helping them build skills and confidence in project-based work.
Over 500 finalists from across the country were selected to show their ideas at the Big Bang Fair. Ten were shortlisted to pitch Dragon's Den-style to a panel of VIP judges, including Rolls-Royce aerospace engineer Andrew Smyth, GKS senior vice president, pharmaceuticals Europe Nikki Yates and Met Office meteorologist and weather presenter Alex Deakin.
Josh is now planning to run a Kickstarter campaign to get the printer into production.
EngineeringUK chief executive Mark Titterington said: "The winners impressed judges with the insight, creativity and hard work that went into their entries and they are certainly worthy winners of these illustrious awards. I hope young people across the UK will be inspired by their achievements to enter next year's competition online or at a regional Big Bang Fair." He added: 'I have been blown away by the quality of entries from all of our finalists – both in the work that went into them and the way they showcased that work with such confidence at the fair."
Separately, Primary Engineer, a not for profit organisation which aims to inspire primary school children about science and engineering, revealed that it has received over 100,000 registrations for its Leaders Award. For this award children are invited to interview an engineer, identify a problem, and draw and annotate a solution to it. Though not all registrations will result in an entry by the closing date at the end of March, Primary Engineer expects to beat last year's record of 23,000 entries.