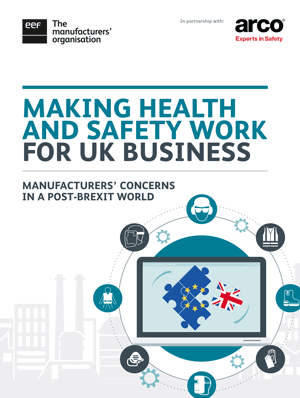 Britain's manufacturers are calling for the current health & safety landscape to be maintained when the UK leaves the European Union, with existing worker production and legislative requirements continuing to be transferred into UK law to avoid cost and disruption to business.
The call is made a wide-ranging report into the UK's health & safety landscape published today by EEF, the manufacturers' organisation, and leading health & safety specialist Arco.
A survey carried out for the report found that 42% of companies want no change to the current regulatory regime, while a further 55% want no immediate change, but would like a review of health & safety regulations once the UK has left the EU. This might include more recent directives which are not risk-based and where the level of health & safety benefits are more questionable. Just 3% of companies wanted to revert to the pre-EU Health & Safety at Work Act 1974.
Entitled Making Health & Safety work for UK Business – manufacturers' concerns in a post Brexit World, the report says it is vital that the British Standards Institution (BSI) continues to play a leading role in European standard-setting so that UK companies can continue to make products within the European standards environment. This is essential to ensure UK companies can continue to trade without the risk of technical barriers emerging and to avoid the unnecessary development of multiple standards. The European Standardisation Organisations and the European standardisation system are not owned by the European Union.
A desire for a review of the existing landscape was significantly more pronounced among medium and larger companies (66.7% and 55.2% respectively) that may have the resources to deal with any change and see Brexit as an opportunity to simplify the system, while smaller companies might prefer to deal with existing regulations rather than face any disruption.
EEF head of health & safety policy Terry Woolmer said: "There is a clear message from manufacturers that there should be no rapid change post-Brexit to the UK's health & safety regulatory regime. The Government's current approach of [transposing] existing EU worker protection and product safety standards into UK law for the foreseeable future is the right one.
This is essential to avoid costly disruption, the emergence of technical barriers and the development of unnecessary multiple standards which might damage the prospects of some companies being able to operate seamlessly when the UK leaves the EU."
The survey of 144 companies was conducted in Spring 2018.