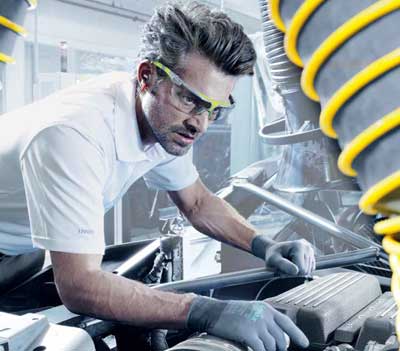 Safety specialist Arco is urging anyone working in industry to exercise caution when buying safety eyewear. The company advises employers to be aware of the level of protection they require and seek guidance from qualified safety experts to ensure they are not placing their workforce in danger.
According to the Health & Safety Executive statistics, a loss or reduction of sight accounted for 126 of all non-fatal injuries to employees while at work in 2017/18. It is thought that that 90% of these injuries could have been prevented with the correct safety eyewear.
"A lack of understanding of the PPE regulations and standards requirements can put workers at risk of serious, life-altering accidents," said Mr Hewitt. "It is essential that those purchasing or wearing safety glasses are getting the correct protection they need for the hazards that they are exposed to."
Arco recommends that employers should complete a comprehensive risk assessment, because different industries and applications require different impact and chemical protection levels, and then brief those responsible for buying the safety glasses.
Employers should be aware of the protection ratings under BS EN 166:2001:
S offering the least amount of protection and no impact protection
F offering the lowest level of impact protection
B offering mid-range impact protection
A providing the highest-level protection against speed projectiles
Mr Hewitt advised that prescription safety glasses cannot meet all the requirements for high speed impact. "Spectacle-type eyewear can only be certified to EN166 level F, which is the lowest impact requirement and not suitable for those using high speed power tools or machining equipment," he said. Workers who require impact protection above the minimum level and who prefer prescription safety glasses will also need to be provided with over-goggles or face screens.
Arco experts have created the following step-by-step guide for buying safety glasses:
Complete a risk assessment. Employers need to carry out a risk assessment that clearly identities which rating employees require, as well as identifying whether they will require over-goggles.
Equip staff with safety information. Make sure employees understand what rating they are required to specify during the ordering process.
Check the markings on the glasses. Many employees and employers are not aware what the marking on the glasses mean. If employers are worried about the glasses that have been provided to their workforce, they can easily check the letters on the lenses to check the ratings. Click here for guidance.
Buy your safety equipment from safety specialists. This means the correct advice is being conveyed and the risk of serious injury is reduced.
From 21 April this year, new certification will be required for any new personal protective equipment put on the market, under the new PPE Regulation (EU) 2016/425 which came into force in April 2018.
New certification will also be needed where there has been a change in design or manufacture, even if the product looks the same. Products will also need to be re-certified where there has been a change in the standards applicable to the product since it was certified, or where the category of risk has changed under the regulation – for example, harmful noise has been reclassified in the more serious category III.
Otherwise, existing product certificates remain valid until their expiry date or until 21 April 2013 when all old PPE certification (under PPE Directive 89/686/EEC) will become invalid.
Whereas the PPE Directive focused on manufacturers putting products on the market, the new regulation applies to the whole supply chain. This means importers, distributors or anyone involved in the supply and distribution chain must make sure that PPE they supply meets the requirements specified in applicable standards.
---
Arco has produced a downloadable guide and summary poster, available here:
https://www.arco.co.uk/regulation
A white paper on the regulations from BSI is available here:https://www.bsigroup.com/en-GB/our-services/product-certification/industry-sector-schemes/personal-protective-equipment-ppe/PPE-regulation-revision-uk/