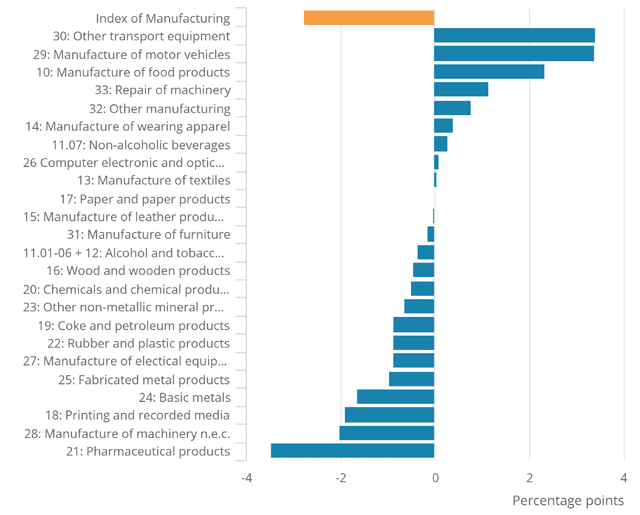 Repair of machinery is one of four industries on which the recovery of manufacturing has been built since the 2008 recession, according to the figures from the Office for National Statistics.
The other three are food manufacture, motor vehicles, and other transport equipment. Without the positive impact of these four industries, the Index of Manufacturing in the fourth quarter of 2018 would still be below its lowest value during the 2008 recession, the ONS says.
The new analysis, Manufacturing sector performance, UK: 2008 to 2018, found that four industries were responsible for 86% of growth in manufacturing over the period, but accounted for only 30% of the sector's weight in 2016.
The repair and installation of machinery and equipment covers the repair of fabricated metal products, electronic and electric equipment, ships and boats, and air and spacecraft among others. It grew by 28% over the decade between quarter 1 2008 and quarter 4 2018 and contributed 1.1 percentage points of growth.
The manufacturing sector was severely affected by the 2008 recession, falling by 12.3% between the first quarter of 2008 and the second quarter of 2009, while output across the economy fell by 6.2% in the same period. Since then, the sector has averaged quarter-on-quarter growth of 0.27%, but it still finished quarter 4 of 2018 2.75% below its level in the first quarter of 2008.
The ONS also notes the dominance of motor vehicle manufacturing. This was the hardest hit of all the manufacturing industries during the recession, dropping 49% below its quarter 1 2008 value in February 2009. It dominated growth in manufacturing between 2012 and 2016, accounting for 39% of growth in this period and adding as much to headline manufacturing as the next five best performing industries combined.
Five categories shrank the most between 2008 and 2018, accounting for nearly 70% of the negative contributions to growth, the ONS reports. These were printing and reproduction of recorded media, basic pharmaceutical products and preparations, manufacture of basic metals, manufacture of fabricated metal products (except machinery and equipment), and machinery and equipment not classified elsewhere.
Overall, the ONS says, manufacturing is close to returning to its level at the start of 2008, although many manufacturing industries have still not recovered from the recession. However, the performance of manufacturing weakened in 2018; of the nine industries that had the largest positive or negative contributions to headline manufacturing from 2008 to 2018, eight performed substantially worse in 2018 than from April 2016 to December 2017.
---
The full report can be downloaded at
www.ons.gov.uk/releases/manufacturing2008to2018