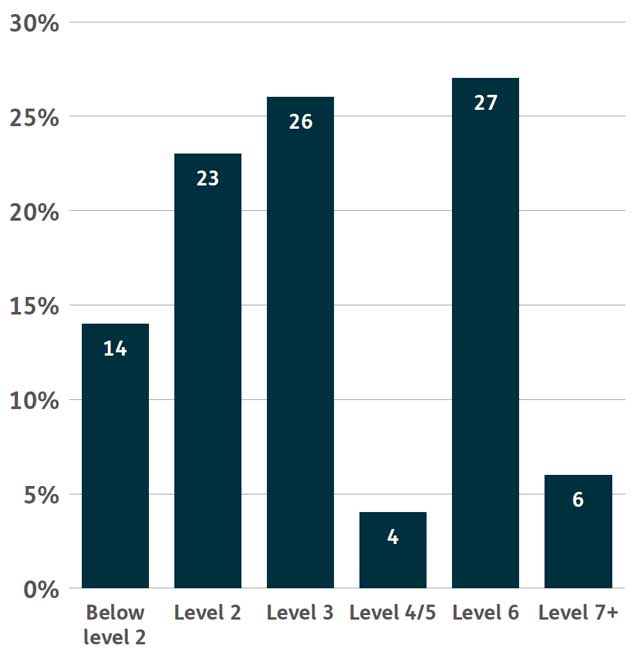 Tertiary education policy has focused on degree courses and neglected technical and vocational education. This imbalance needs to be redressed, says the recent review of post-18 provision.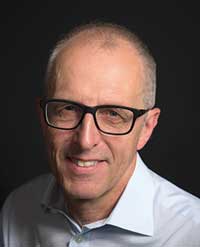 Post-18 education in England is characterised by a gap at the higher technical level which may be contributing to chronic skill shortages.
This is one of the findings of the Post-18 Education and Funding Review Panel chaired by Dr Philip Augar, which reported to the government at the end of May.
"Post-18 education in England is a story of both care and neglect," says the report: care for degree courses and neglect and a loss of status for the further education sector. The resulting "missing middle" is not seen in international comparisons. "This gap in higher technical education makes England an outlier by international standards," the report says.
In England, after A-level almost all students go on to a full-time degree course (a level 6 qualification) with few undertaking qualifications at levels 4 and 5 (including HNCs/HNDs, foundation degrees and certificates and diplomas, which are usually the province of Further Education colleges).
"The next step after level 3 is, effectively, a full degree or nothing: there is a near-total barrier to progress for people who have achieved a basic level of education at age 18, but do not progress to university or an apprenticeship," says the report. Of the cohort that took GCSEs in England in the academic year 2004-05, only 4% had achieved a level 4 or 5 as their highest qualification by age 25, whereas 33% went on to level 6 or higher. And in 2016/17, there were only 190,000 people studying at level 4 or 5 (excluding apprenticeships), compared with approximately 1.14 million learners at level 6.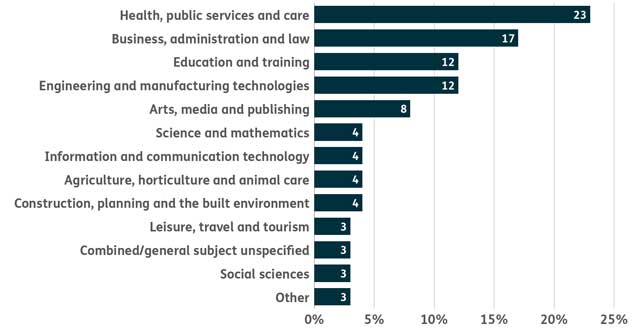 Moreover, of the few who do study at level 4/5, "only a small minority are found in the STEM-related technical areas where skills gaps are especially evident," the report says.
"The country's very small number of level 4/5 students translates into persistent skill gaps at technician level and also severely reduces opportunities for people who are unable, for whatever reason, to progress directly from level 3 to level 6." Evidence to the panel showed wide support for expanding Level 4 and 5 enrolment from its current level, the report says.
The panel argues that the disparity between university education and the further education sector is an inevitable result of the fundamentally different funding systems applying to the two sectors, and that funding structures and incentives must be changed if Level 4 and 5 uptake is to increase.
The panel concluded: "England needs a stronger technical and vocational education system at sub-degree levels to meet the structural skills shortages that are in all probability contributing to the UK's weak productivity performance. Improved funding, a better maintenance offer, and a more coherent suite of higher technical and professional qualifications would help level the playing field with degrees."
It called for reform and new funding for further education colleges, and a lifelong learning loan allowance which could be used at any stage of an adult's career, to address the decline in numbers receiving post-18 education.
Make UK's director of labour market and skills Tim Thomas said: "UK employers are paying £3.7bn annually into an apprenticeship levy they too often cannot access, and the majority of public funding considered by the review, over £8bn in 2017/18, is committed to students in the higher education sector. This mismatch needs to be addressed at once.
"The re-balancing of resources and focus between higher education and vocational education is long overdue. It must be founded on an evidence-based approach and focused in areas where the UK is short of skills that are economically valuable to industry, such as STEM and digital."
---
www.gov.uk/government/publications/post-18-review-of-education-and-funding-independent-panel-report