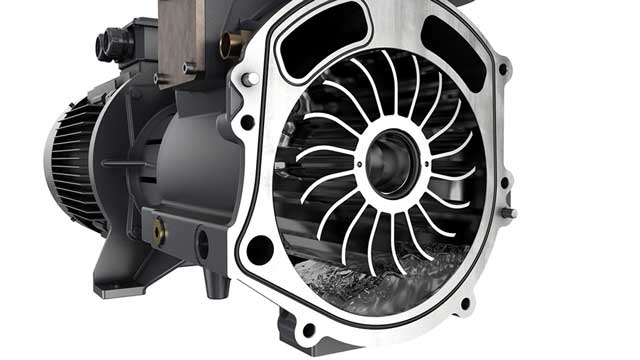 The latest developments in industrial vacuum pump technology are transforming their performance. Ahmed El Shaffie, vacuum sales manager at Atlas Copco UK, explains
In the past, vacuum pumps were synonymous with reliability problems, high oil carryover, excessive noise and high energy and maintenance costs. Now, industrial vacuum equipment has shaken off this image, with progress in innovative technology, energy efficiency and control sophistication.
The latest variable-speed, dry claw vacuum pumps, which can now be combined with intelligent app monitoring and control, demonstrate the advances that have been made. These designs optimise performance while offering lower lifecycle costs, higher productivity, less energy consumption and straightforward maintenance procedures.
Dry claw pump developments
Dry claw vacuum pumps are designed for operation in hot, dry and particularly harsh environments. They employ two claw-shaped rotors running in opposite directions that don't touch each other or the pump chamber. This makes them virtually free from wear and means there is no need for lubrication in the main pumping chamber, thus eliminating the possibility of any contamination of the application process.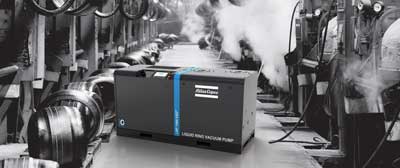 Among the quietest vacuum technologies, its applications range from packaging lines, pneumatic conveyors, and clamping systems for CNC machines to moulding machines, drying processes, and central vacuum supply systems.
Traditional claw pumps run hot, which can adversely affect seals and bearings and can cause premature failure. The latest developments help overcome heat dissipation problems through a combination of upgraded bearings and seals, plus patented cooling design concepts for efficient, quiet air distribution and smooth operation.
The need to reduce maintenance time and costs is a significant factor, especially in Atlas Copco's new DZS100-400 VSD+ series of air-cooled dry claw vacuum pumps, where a key feature is the segregation of the corrosion-resistant pumping chamber from the gearbox. This allows easy access for the removal, cleaning and re-assembly of the stainless-steel claws while eliminating the need to strip and re-time gears after cleaning. The isolation of the gearbox removes the risk of contamination from process or gearbox oil that occurs with more traditional pump technologies.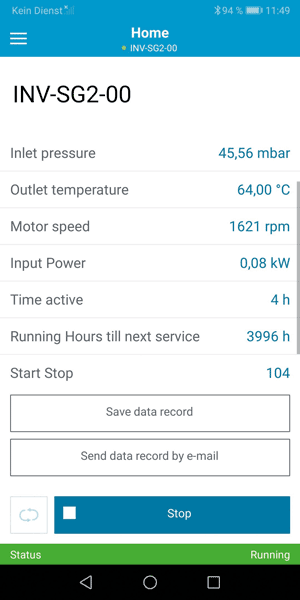 Improved intelligence
Atlas Copco has developed the free VSD+ app, available in iOS or Android, which allows vacuum pumps to be controlled and monitored in real time from smart devices – bringing greater user-friendliness and noticeably more efficient operation. The app automatically connects via an integrated Bluetooth interface as soon as the pump is started. Once the desired parameters have been entered into the smart device, the pump can be put into operation immediately.
The future
These developments reflect a continued drive towards creating a safer, cleaner and smarter industrial environment. As a result, advanced manufacturers such as Atlas Copco are building pumps that combine innovative design, premium performance, and energy efficiency with intelligent remote monitoring and control capabilities.
---
Atlas Copco's other vacuum pump technologies
Liquid ring vacuum is the optimum technology for handling extreme vapour loads and pumping wet or dry gases with a high tolerance for liquid carryover, especially on condensable processes such as distillation, drying and evaporator duties. The launch of the ultra-compact LRP 700-1000 VSD+ range of intelligent liquid ring vacuum pumps represents a significant breakthrough from the classic liquid ring pumps available today.
Built for rapid cycling and continuous operation applications, Dry Screw pumps provide significantly higher performance levels and reduced maintenance, noise and heat emissions compared with conventional oil-sealed and dry vane vacuum pumps. Atlas Copco's dry-screw DHS VSD+ is a truly clean, zero-contamination unit that requires no water or oil cooling. Certified as oil-free in the category Class Zero to ISO standard 8573-1, the pump is free of oil emissions, including aerosol oil content in the outlet air stream.
---
Further info:: 0800 181085
E-mail compressor.sales@uk.atlascopco.com
Website: www.atlascopco.co.uk/compressorsuk