Proposals to promote the development of "trustworthy" artificial intelligence in Europe through increasing investment, streamlining research and fostering collaboration have been set out by the European Commission in a new White Paper.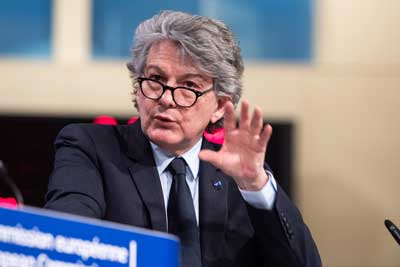 Together with a data strategy, the commission intends this to form the basis of "a digital transformation that works for all".
The commission said: "Digital technologies, if used with purpose, will benefit citizens and businesses in many ways." Over the next five years, it says it will focus on making possible digital technology that works for people in a fair and competitive economy and an open and democratic society. "New policies and frameworks will enable Europe to deploy cutting-edge digital technologies and strengthen its cybersecurity capacities," the commission said.
"Europe has all it needs to become a world leader in artificial intelligence systems that can be safely used and applied," the commission added, with "excellent research centres, secure digital systems and a robust position in robotics as well as competitive manufacturing and services sectors".
In the white paper, the commission envisages a framework for trustworthy artificial intelligence, based on excellence and trust. In partnership with the private and the public sector, the aim is "to create the right incentives to accelerate deployment of AI, including by smaller and medium-sized enterprises".
It proposes a "human-centric approach" so that AI systems are developed and used in a way that respects EU law and fundamental rights, with a regulatory approached based on an assessment of risk. High-risk AI systems would be certified, tested and controlled in an analogous way to cars, cosmetics, and toys. For low risk systems there would be a system of voluntary labelling.
An application would be considered high-risk if it was used in a specifically listed sector such as transport, healthcare, or policing, and in addition was used in such a way that risks of injury, death or damage, or legal implications could arise.
The data strategy aims to make the EU "a role model and a leader for a society empowered by data". For this, it aims at setting up a European data space or "single market" for data, to unlock unused data and allow it to flow freely across sectors for the benefit of businesses, researchers and public administrations. The data should be available to all, whether public or private, start-up or giant, the strategy says.
To achieve this, the commission will first propose to establish a regulatory framework for data governance, access and re-use, creating incentives for data sharing and establishing clear rules on data access and use, while upholding rights such as personal data protection.
It will support "the development of the technological systems and the next generation of infrastructure" to allow the opportunities of the data economy to be grasped.
Finally, it will launch sectoral specific actions in sectors such as industrial manufacturing, the green deal, mobility or health.
EU commissioner for the internal market, Thierry Breton, said: "Our society is generating a huge wave of industrial and public data, which will transform the way we produce, consume and live. I want European businesses and our many SMEs to access this data and create value for Europeans – including by developing artificial intelligence applications."
The commission will present later this year a Digital Services Act and a European Democracy Action Plan.
---
Consultation on the White Paper on Artificial Intelligence is open until 31 May. It is available at https://ec.europa.eu/info/sites/info/files/commission-white-paper-artificial-intelligence-feb2020_en.pdf
Feedback on the digital strategy can be given at https://ec.europa.eu/eusurvey/runner/DataStrategy