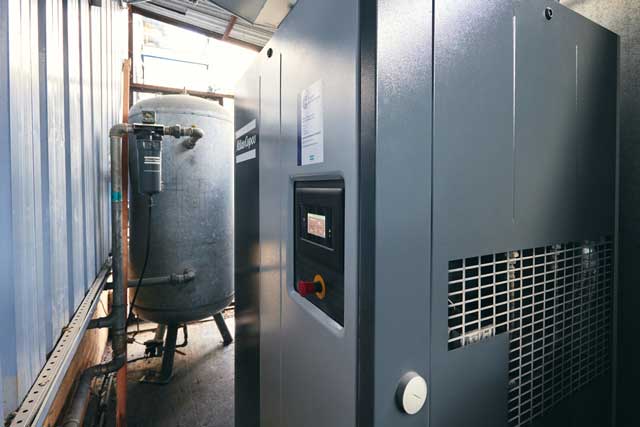 In these dark days of preoccupation with personal and economic survival it may be judged understandable but unwise to overlook the important issue of production equipment health, a consideration which will be vital in the eventual recovery to full productivity across the industrial landscape.
The essential role of compressed air supply as the fourth utility for industry is well established. No matter whether production or process plant is running at full capacity, on a reduced output, or temporarily shut down during this crisis period, keeping compressor systems in peak condition eliminates the costs of excessive energy consumption and the risk to output and productivity from mechanical breakdown.
The best way of assuring a supply of compressed air is by taking the best care of the compressed air equipment. This means investing in regular preventive maintenance across the board. Uptime is greatly improved on regularly serviced compressors − it can make a difference of up to 3.5% to a compressor's availability, which for a compressor running for 6000 hours annually equates to an additional 210 production hours.
Knowing the status of compressed air equipment at all times is the surest way for plant managers and maintenance professionals to spot any developing problems. This can be achieved through a remote data monitoring system that intelligently gathers, compares, and analyses data to help compressed air users increase maintenance and service efficiency.
At this difficult time, when essential personnel are more likely to be working from home, remote connectivity with a compressor installation could help them to know the system's status and be able to react to it from a safe distance. A remote connectivity set up will transmit the operational data of the compressor to the equipment service company's remote diagnostics centre, which will constantly monitor the incoming events, allowing them to detect and propose a plan to prevent any critical situations or downtime in the compressed air supply.
An equally important consideration in the current crisis is to realise that stopping and re-starting air compressors to reduce output, to stop temporarily for a period of time, or shut down altogether due to factory closure, is not just a simple matter of flicking a switch. It is essential to follow equipment manufacturers' specific rules and procedures that apply to a range of compressor types and technologies.
As a general recommendation, if production is to be stopped completely, compressors should be turned off manually, even if they are integrated in a central controller. Some central controllers allow remote shutdown of the complete compressed air system, which is an alternative to turning off manually. If this is not done, it is possible that the machine will run at minimal capacity to compensate for small leaks in the compressed air network. This could prove be harmful to the unit, in ways such as creating damaging condensate.
The compressed air industry is taking steps to continue to provide the best possible service to customers, despite the challenges presented by the current situation. Compressor manufacturers' production and distribution teams are working hard to maintain availability of products and spare parts, and some have taken extraordinary measures to assure supply to hospitals and crucial sectors like food and pharmaceutical production, water and wastewater plants and power generation. Service engineers are working in new ways to maximise safety and, during a service site visit, they will follow plant site rules and government rules, stringently.
Together they can keep everyone safe and compressed air equipment health maintained for optimum performance both now and, hopefully, in a much brighter future.