A poorly maintained steam system will be inefficient and could be dangerous. Thermal Energy International technical director Sam Mawby discusses how to keep on top of the necessary maintenance.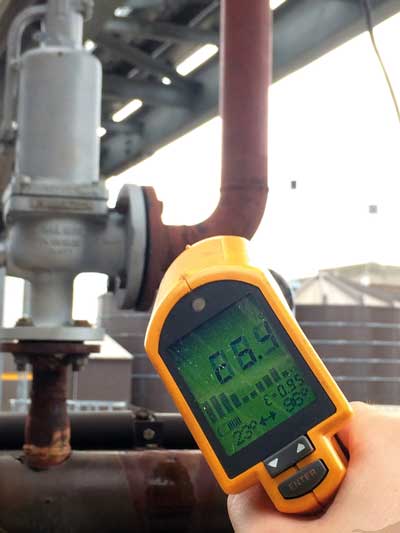 The aggressive nature of steam puts pipework at risk of damage. Recognising and avoiding steam leaks is vital for a system to operate efficiently and safely.

Until recently, most sites would have a plantroom manager or plant engineer to oversee the maintenance of a steam system. This person, or team, would be aware of the system's maintenance requirements, including monitoring for leaks, maintaining the system and cleaning out dirt pockets, for example.

However, increasingly the duty of maintaining all heating, ventilation and air conditioning systems has been encompassed by the energy, estate or facilities manager and maintenance engineers. Many of these oversee several sites in an area and, as the role continues to evolve, specialist steam knowledge is being lost while maintenance continues to mount.
Water hammer

If a steam system is not adequately maintained, one of the most damaging results is water hammer, sometimes known as steam hammer. This occurs when condensate that has not been effectively drained is picked up by the steam, carrying it through the pipework at high speed and creating a loud hammering noise.

This wears away at the pipework. If left unattended, water hammer can have disastrous consequences. Some sites have experienced ruptured pipework, with significant health and safety implications as well as an impact on productivity.

Steam trapping, which removes air and condensate from the system as they arise, is vital to minimise the risk of water hammer. The steam traps themselves require maintaining to check they are operating correctly. Failed traps not only waste energy through live steam loss, but also contribute to water hammer when condensate is not discharged. With time at a premium, it tends to be more economical for sites to replace damaged steam traps rather than remove, repair and re-install them.

In response, an increasing number are turning to a new generation of steam trap technology to solve the problem permanently. By specifying innovative products such as GEM Traps, condensate can be discharged from the system, including those generating variable condensate loads, without the need for moving parts.

With fewer elements to manage and service, this technology reduces the maintenance burden and allows maintenance and operations professionals to prioritise other areas of site maintenance.
Skills

A steam system requires specific, specialist maintenance. This is where bringing in a third party can make a big difference. As part of an annual steam system survey, facilities management companies or steam system specialists can take a holistic view of the process to establish what needs to be done to keep the system running efficiently. This audit is often part of a wider service contract with a single annual fee covering all maintenance required on site.

Increasingly, modular service contracts are being used by operations which have different levels of knowledge, time and expertise. Instead of offering an off-the-shelf model, companies like Thermal Energy are helping design service contracts to suit specific sites.

Based on the site requirements, service and maintenance agreements can be tailored to cover everything including surveys, call-out days, parts, and even the management of additional suppliers, such as water treatment specialists. Alternatively, a personalised service contract can focus on training. It can be designed to support and educate an in-house team on the general running of the system.

Usually a thorough initial walk-through of the system is enough to recognise the most pressing maintenance activities. Sites need to be made aware of what they are looking for and have access to the right tools, empowering them to identify a potential issue before it becomes a problem.

Steam is one of the most effective ways of transporting large quantities of heat energy around a site. However, maintenance can prove time and budget consuming. There is no easy solution to steam system maintenance, but having effective processes and technologies in place can go a long way to relieving the problem.
---
For more information see www.thermalenergy.com.