Twisting of a vital hose threatened to disrupt production in a tough subsea environment. Rotaflow technical director Dan Watt describes how his firm was called in to find a solution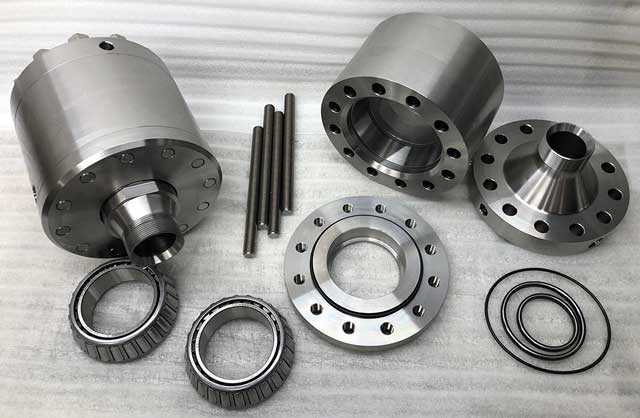 Subsea 7 is a seabed to surface services provider, operating in the subsea energy industry. Its business includes the design, engineering and fabrication of infrastructure used in the subsea energy lifecycle.

In one of its oil operations, Subsea 7 encountered a problem on a 400m long 2in flexible umbilical hose, supplying hydraulic oil to a subsea piling system.

As the hose was being wound off from the central reel, it was twisting. The twisting could potentially lead to various threaded connections becoming disconnected.

Disconnections along the length of the hose would put an indefinite stop to operations. It was imperative that a permanent solution was found for the issue. This was not the kind of problem could be solved with a quick fix.

Subsea 7 explored integrating a swivel joint in to the hose, based on the assumption that such a joint would relieve the twisting and avoid torsional loads on the connections. The swivel joint would allow the line to twist safely, preventing any disconnections.

The nature of the issue meant that a standard, off-the-shelf solution wouldn't be suitable due to the extremes of environment (low temperatures, high winds, saltwater exposure) and pressure (the swivel joint would be working at a depth of 500m and 5000 psi), so a specialist solution had to be found.

Subsea 7 approached swivel joint specialist Rotaflow, because it was aware of its experience of working at high pressures and in the subsea environment.

The brief was simple – the swivel joint was required to work at a depth of 500m and be rated for 5000 psi working pressure. It would have to rotate through 360 degrees and maintain interior and exterior integrity, despite operating in extremes of temperature, wind and exposure to seawater.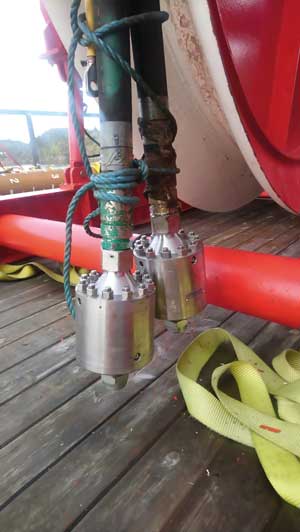 Following a consultation process with its in-house design team, Rotaflow managed to find a solution to the problem.

To contain the loads, a twin taper roller bearing arrangement was designed. Duplex stainless steel was selected for its high strength and good corrosion resistance. The seals were PTFE for the widest possible compatibility.

Once the design was given final approval by Subsea 7, the rotating swivel joint was manufactured, tested and delivered to site within a few weeks. This short lead time allowed the joint to be installed in time for the next umbilical operation.

Since the component has been installed on site, the twist issues have been eradicated and the swivel joint has allowed operations to continue unhindered.

No business wants operations to be halted. In the high-pressure world of subsea engineering, any delay in production can cost thousands or even millions of pounds, with potential disruption further along supply chains. With such high stakes, it is imperative that precise work and tight deadlines are adhered to.

This job, although relatively simple, was a testament to how the skills and logistical benefits offered by the UK engineering sector, and particularly small and medium manufacturers, can be used to support the requirements of oil and gas production and other domestic industries.

Without this modification, production might have been interrupted. Had the solution to the problem been sought elsewhere in the world, there would have inevitably been a longer delay and further costs incurred.

At Rotaflow, design and manufacturing teams are in the same building, meaning turnaround time on jobs such as this one is significantly faster than most. With the ability, for example, to pressure test products in a purpose-built hyperbaric chamber, exacting design and manufacturing standards are maintained.
---
Contact: enquiries@rotaflow.com or 01663 735003.