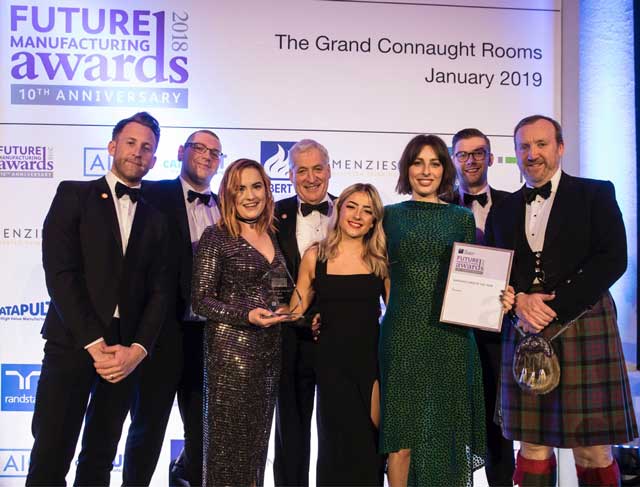 Outstanding companies and talented individuals were recognised earlier this month at the EEF Future Manufacturing Awards in London.
Huddersfield-based Paxman – a manufacturer of scalp cooling systems used to reduce chemotherapy-induced hair loss – took home the Business Growth and Strategy Award and was named overall Manufacturer of the Year.
The judges were impressed with the different business models that Paxman employs for various international markets, according to local contexts and regulations. The judging panel said: "This innovation displayed huge impact in social and health benefits. It was multi-dimensional from finance, product development and service delivery."
Paxman managing director Richard Paxman said: "I'm thrilled with both the innovation and manufacturer of the year awards, as everyone in the business has contributed. To be able to provide our product across the globe really pleases me as I know what we do makes a huge difference to people in particularly tough times."
The awards also recognised bright young talents in the sector, with Tobias Cowan of HepcoMotion winning the Engineering Apprentice of the Year award and Heather Johnson of BAE Systems being named Business Apprentice of the Year.
The Innovation Award went to Surface Measurement Systems – a research-intensive manufacturer of scientific measurement systems – after impressing judges with an ability to create a culture of innovation touching all aspects of the business.
"Success has meant expansion into more industries with 20 new scientific applications to solve customer problems in new industries, greater profitability and increased IP," said the judges.
Mechanical seals and support systems specialist AESSEAL won the Developing Future Talent award for its efforts to develop its employees and promote engineering and manufacturing careers through activities within the community. Judges said: "With strong engagement from the very top, this entrant welcomed diversity and promoted lifelong learning."
The Health & Safety Award was presented to fire protection systems manufacturer Advanced Insulation for the most impressive or innovative improvements in the health and safety culture of their workplace. It demonstrated an ability to achieve, maintain and improve upon various industry accreditations.
"This is an excellent example of how safety culture can be improved in an organisation with measurable results," said the judges. "It is clear that the 're-boot' of health and safety followed a measurable strategic plan and that this was embraced by all areas of the organisation."
Eurocell – a manufacturer of comprehensive PVC-U systems for home fittings – took the Sustainability Award for its efforts to tackle environmental challenges. Judges said the company was "driven by a global pressure on environmental landfill, and a knowledge that PVC-U can be recycled with increasing strength a number of times".
Peter Tack of Lander Automotive won the Leadership Award on the night. The judging panel for the awards comprised a mixture of business leaders, industry experts and academics.