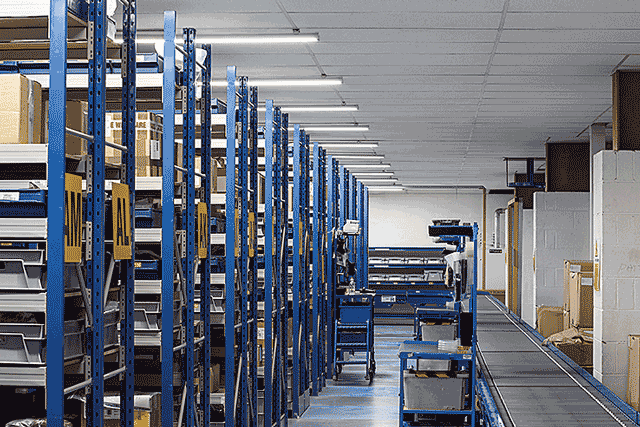 Market leading lighting supplier LED Eco Lights has announced that Pattonair, a global aerospace and defence supply chain provider, has reduced lighting energy costs by 40% by replacing the fluorescent tubes at its 3,400 m² European hub in Derby with long life, energy efficient G5 LED Battens from its Goodlight range.
The installation in April has directly resulted in a 40% reduction in kilowatt hours. Pattonair expects this figure to rise throughout the winter months, but it is spot on target with the original forecast. The G5 LED Battens have been surface mounted throughout Pattonair's low-level warehouse and suspended in the inspection and kitting areas.
Pattonair carried out a company-wide environmental review to assess the most effective way to reduce energy costs and ensure its carbon footprint was as low as possible and LED lighting came out top. Following a site survey, Goodlight LED lighting was chosen to supply and install low energy, high performance LED lamps to replace the outdated, energy hungry fluorescent tubes. Chris Snowden, HSE manager for Pattonair said: "Installation of the new lighting solution for our facility was efficient and did not interrupt operations. Service from LED Eco Lights was professional at all times."
Goodlight supplied Pattonair with G5 LED Battens which deliver very high levels of light output, offering up to 110 lumens per watt. The G5s are rated to IP65 and provide protection from dust, ice, heat and corrosion. They are a direct drop-in replacement for standard 2ft, 4ft and 5ft fluorescent tubes and are available in daylight, natural and warm white colour temperatures. Housed in a sleek body, and IP65-protected, the G5 maintains an attractive appearance for front-of-house as well as being robust and durable in work areas. The lamps come with a five-year warranty and have a lifespan of 50,000 hours.
Commenting on the success of the project, Saima Shafi, sales & marketing director at LED Eco Lights says "We are delighted to support Pattonair with their conversion to LED lighting. Our Goodlight range ticked all the boxes – efficiency, maintenance reduction, ultra-long lifespans and value for money. Another project delivered without fuss, to budget and on time."
LED Eco Lights was founded in 2006 and celebrates 11 years as an award-winning LED lighting manufacturer. Its Goodlight™ LED lamps and luminaires provide a comprehensive range of LED solutions for commercial, industrial, amenity, leisure and hospitality environments. LED Eco Lights offers a team of technical experts to guide customers through every stage of the upgrade process, including lighting design services, funding solutions and installation. LED Eco Lights also offers its Bright Goods range of vintage-style decorative LED filament bulbs.
---
Sophia Burr, marketing manager, LED Eco Lights, Unit 7, J4 Camberley, 15 Doman Road, Camberley, Surrey GU15 3LB,
Tel: 01276 691230. Email: sophia@ledecolights.com
Web: www.goodlight.co.uk