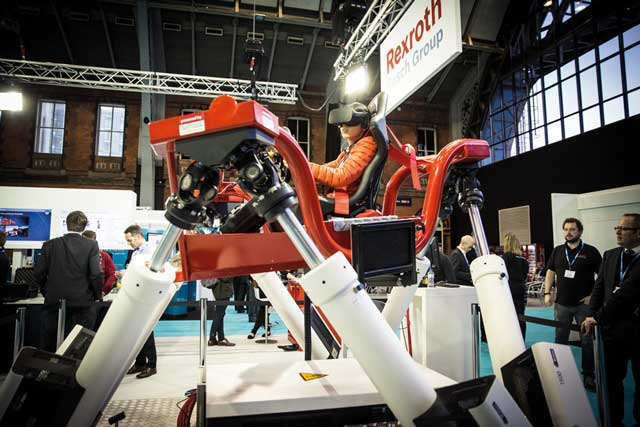 A combined high-level conference and trade exhibition, the Industry 4.0 Summit (to be held on 10-11 April in Manchester) aims to educate manufacturers in developing their own industry 4.0 strategy, as well as providing a great platform to see the latest technologies and demonstrations, seek advice and finance from government, meet industry associations, and to network with over 2,000 attendees from 40 countries.
The summit has managed to attract a stellar line-up of speakers since its launch in 2017 from industry, government and academia. The latest speaker line-up includes EEF, Siemens, Made Smarter North West, Millers Oils, BAE Systems, Mondelēz International, EDF, Capula, and Ford, to name a few.
Since industry 4.0 has an impact right across the manufacturing spectrum, the event has attracted attendees from the aerospace, food and drink, automotive, nuclear and pharmaceutical industries. A key focus for this year's event is inviting more small and medium companies to participate and to get a better understanding of industry 4.0, as well as debunking some of the jargon associated with the subject. There are plenty of free-to-attend seminars for SMEs to enjoy and gain knowledge to help them start their own digital journey.
Bosch Rexroth has returned as headline sponsor for the third year in a row, a testament that the organisers hope shows that the event is able to deliver the right audience to engineering companies.
Siemens will also be attending, with a large stand and sponsorship of the Open Technology Forum area, a free-to-attend feature designed to help smaller companies get a better grasp of 4.0. Intel returns once more and will be hosting two days of free to attend internet of things workshops.
In the exhibition hall, attendees to the free Expo will be able to see a broad mixture of smart technologies from automation, robotics, AR/VR, cyber security, 3D printing, big data and other relevant areas.
The organisers have secured the support of companies across the 4.0 spectrum including automation companies such as Festo, ifm, Grundfos, Panasonic, Atlas Copco, Werma & Beckhoff.
---
For more details please contact Gary Gilmour on 01642 438225 or at info@industry40summit.com – or visit www.industry40summit.com