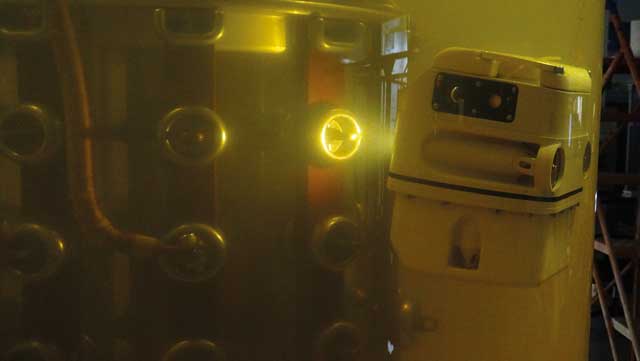 A new robotic inspection service for oil-filled power transformers allows utilities and industrial operators to control risk and minimise outages, says ABB digital lead for transformers, Jamie Stapleton.
It's now possible to retrofit sensors for non-invasive condition monitoring of oil-filled transformers – but it's still essential to carry out periodic visual inspections. These enable operators to identify the exact location or severity of a fault or check an asset's condition after a lightning strike.
However, a traditional visual inspection can require taking a transformer out of service for three or more days. The process involves disconnecting the transformer before draining it down and storing its insulating oil. After it has cooled, a technician climbs into the interior to inspect and photograph it. The support of a confined space entry team and an oil handling team is needed.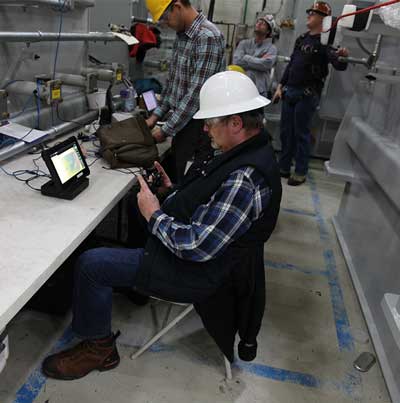 The robotic approach
Recognising that operators want to maximise availability and minimise risk, ABB developed the TXplore robotic inspection service. This uses an autonomous "swimming" robot controlled by an electronic-game-type handset via a wireless link. It enables technicians to carry out a full inspection without draining the oil or exposing anyone to risks inside the oily and fragile interior.
As a result, it's possible to return a transformer to service within a day. The service also reduces the risk of damaging the transformer, and the risk to the environment of mishaps during oil handling.
The robot is designed to capture clear images and video and transmit them live over a wireless link so that they can be shared, almost in real time, with experts anywhere in the world. Utility engineers and transformer experts can observe the transformer's condition remotely and request additional images and photos for a closer look at components such as bushings, leads, tap changer, core top, core support and insulation.
Compact size
Measuring only 18 x 20 x 24cm, the robot can get close to components and access hard-to-reach areas. A smooth casing and wireless connectivity reduce the risk of snagging on internal components. Multiple on-board cameras capture images from different angles.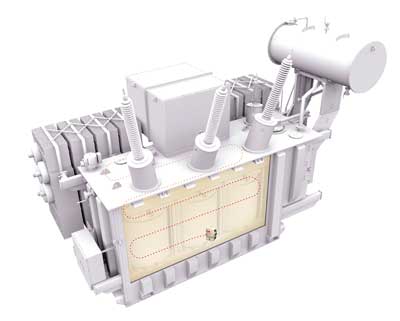 The robot takes account of the fact that manufacturers have used many different types and formulations of oil over the years. Its buoyancy can be configured for mineral oil, or ester-based or silicone fluids. In addition, although transformer oil often becomes darker over time, testing has shown that the robot's bright LED lights can pierce through even the darkest oils.
The service can be used in transformers that may contain PCBs (polychlorinated biphenyls), a toxic product that was discontinued in 1987. If pre-testing of the oil identifies the presence of PCBs, ABB will make arrangements for licensed disposal of the materials used to clean the robot – and ABB will clean the robot scrupulously after every inspection.
The only limiting factor is that there must be an opening on the top of the transformer large enough for inserting the robot.
Oil integrity
It is essential to preserve the integrity of transformers and their insulating oil. For this reason, ABB's multidisciplinary team carried out extensive validation of the robot and its subsystems. For example, prototypes were tested for leakage for more than 96 hours under various temperature and pressure conditions. In addition, spatial and depth navigation were tested thoroughly, as was stability, to guarantee the quality of images. Stroboscopic testing showed that no gas bubbles form on the propellers.
The prototype was even tested in heavily contaminated oil from a field transformer before being cleaned and placed in fresh oil, showing that that fresh oil is unaffected if the correct cleaning procedures are followed.
A North American utility was the first to use the service in summer 2017 on a 50-year-old transformer, showing that a full inspection can be carried out with oil in place. Since then, ABB launched the service globally at the Hanover Fail in 2018 and has a fleet of TXplore robots globally, with one available to operators in the UK.
---
For more information, contact Johnny Sanchez,
johnny.sanchez@gb.abb.com
phone 01785 825050.
www.abb.com