Condition monitoring forms part of a comprehensive offering from Brammer Buck & Hickman's engineering service centre network. By David Fowler
Industrial supplies specialist Brammer Buck & Hickman has added condition monitoring to the range of services it offers. The new service forms part of an expanded portfolio being provided through the company's chain of engineering service centres.
Three centres, at Leeds, Glasgow and the flagship Wolverhampton site, were officially launched in November. A centre at Maidstone is to be formally inaugurated in March, and a fifth in Cardiff, to cover south Wales and south-west England, is planned.
The Wolverhampton centre is also home to the company's new Product Proving Centre, where state of the art CNC machines are available to allow Brammer engineers to advise and assist customers in optimising manufacture of precision components (see box below).
Brammer Buck & Hickman began offering condition monitoring as an optional add-on with its industrial equipment repair business. In a partnership with specialist Vibrotech, built up over the last year, it now offers a more sophisticated range of services including vibration monitoring, ultrasonic testing, thermography and oil analysis. In addition the company can undertake air leak audits, and laser shaft and coupling alignment.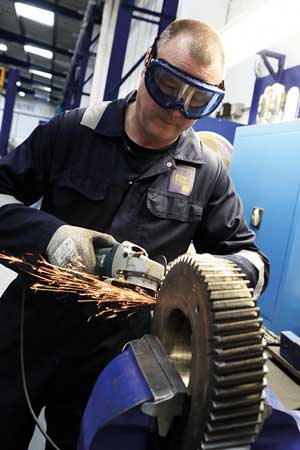 Brammer began repairing industrial gearboxes at sites in Leeds and Birmingham (later moving to Wolverhampton) during the 1980s. It later diversified into pump and compressor repair and elastic motor rewinds. Then following customer demand it added removal and replacement of the equipment to be repaired, re-commissioning and checking alignment and belts.
Brammer Buck & Hickman head of engineering Andy Batey says with the advent of lean manufacturing, companies no longer have the staff to undertake such work themselves.
He says: "Skills are being lost to the industry. From repairs to condition based monitoring, we're replacing that with a full solution here."
Explaining how the condition monitoring service arose, he adds: "Once we've repaired something, we monitor it here and produce a report for the customer to say that on the test bed, this is what we found." The item is then monitored again when reinstalled, to check its performance is the same. "We would then offer to come back in a year to check whether it was still OK, and this could be extended annually."
The partnership with Vibrotech allows a more comprehensive service to be offered. Vibrotech director Antony Barnes says: "We support Brammer Buck & Hickman to give a complete package. We're very good at finding the problem. They are very good at fixing it."
For example, in vibration analysis Brammer Buck & Hickman would carry out a detailed frequency analysis, recording frequency responses and amplitudes, enabling it to pinpoint a problem to a precise location, such as being in the inner or outer race of a bearing.
Mr Batey says: "Rather than data going into the cloud, we're more hands-on. Our staff explain their report to the customer, and point out if the data suggests a machine is likely to fail." With the cost in lost production of failure of a critical component such as a drive potentially running into millions of pounds, customers welcome such advice coming from an experienced engineer, he continues.
"If we find a problem we always propose a solution," he adds. "If we find £1,000 worth of air leaks, we will also propose £200 worth of fittings to solve the problem."
Typically, a Brammer Buck & Hickman engineer will visit a customer's plant to undertake monitoring, and will return to discuss the results. "Customers prefer to see the same engineer every time," said Mr Batey. "In that way we build up a relationship."
Customers can tap into the knowledge and experience of The company's experts in these and other areas, including advice on minimising repair downtime and on process and efficiency improvements, through the company's network of 49 branches nationwide.
---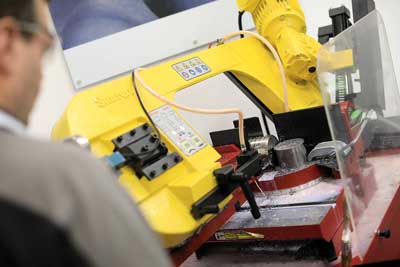 Product Proving Centre
Another innovation at the Wolverhampton site is the Product Proving Centre. Equipped with a range of CNC machines from Haas, and an Autodesk CAD package, the centre will be able to investigate the production of precision components. The intention is to assist and advise customers in finding better and more efficient ways of manufacturing components, away from the pressure of the shop floor. Simon Pearson, Brammer Buck & Hickman category manager for machining, says: "This centre gives us the capability to bring a component back here and re-engineer it."
Typically the customer would be expected to supply a CAD file and the material from which it is made. Brammer Buck & Hickman would seek not just to demonstrate the optimum cutting and machining paths but also advise on workholding and the best cutting fluid to use.
If the company's proposals are approved its application engineers would go to the site to set up the customer's machine tools and train the operators If necessary.
The service is free, with the aim of strengthening relationships with customers and the incentive, said Mr Pearson, that "we would have the opportunity to supply equipment and consumables if we demonstrate value".
---