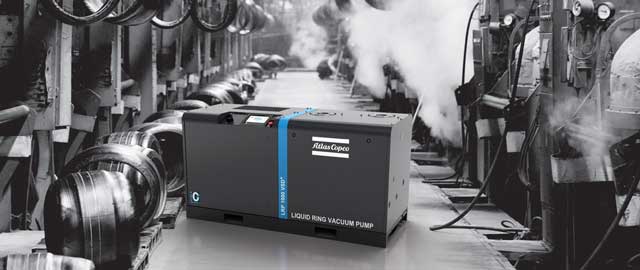 Atlas Copco claims a new breakthrough in liquid ring vacuum pump technology with the launch of its LRP 700-1000 VSD+ range of intelligent liquid ring vacuum pumps. A huge departure from existing designs, the LRP VSD+ is a compact, high performance, energy efficient system enclosed in a strong, noise-containing canopy, the makers say.
The LRP VSD+ is fitted into in a single enclosure with one of the smallest footprints for a pump in its class. The design makes the most of the space under the canopy by fitting in accessories that would otherwise require additional space, piping and installation. The pump also contains a large number of performance-optimised components that would normally be supplied as accessories.
The pump is said to be ideal for wet, humid and dirty applications with liquid and solid carry-over, including filtration, food processing, conveying, ePS, drying, degassing and plastics calibration and rubber vulcanization.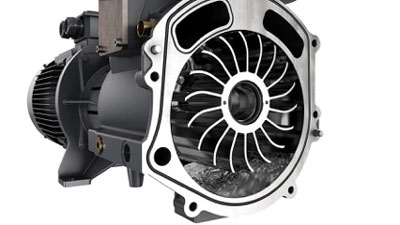 The variable speed drive technology integrated into the LRP VSD+ is said to be unique. The twin VSD system operates in harmony to optimise vacuum performance at all times. The primary VSD accurately maintains required vacuum levels by controlling the operating speed of the main pump motor, matching pump performance to process demand and saving energy. The second VSD regulates the separate water circulation pump in response to the operating conditions, optimising water flow in the pump element and providing maximum performance and stability at all vacuum levels and operating speeds.
Alistair Darroch, Atlas Copco product manager for liquid ring vacuum technologies, said: "Intelligence is a key feature of the LRP VSD+. Our patented features and unique algorithms balance the operation of the water pump with the speed of the main motor. This guarantees that the pump always delivers peak performance while maintaining maximum energy efficiency."
The ergonomic design of the LRP 700-1000 VSD+ makes the pump easy to operate. In addition, inlet, outlet and mains cable points are positioned on the top of the pump for straightforward installation.
The soundproof housing significantly reduces noise in the immediate working environment, with operating noise in the range of 65dB(A). IP54 rated wet/dry canopy and cubicle effectively protect the pump and internal electronics against dust and water. This qualifies the LRP 700-1000 VSD+ series for the harshest industrial applications – extending the lifetime of the electronic components as well as the service intervals.
---
Enquiries 0800 181085.
E-mail: compressor.sales@uk.atlascopco.com www.atlascopco.co.uk/compressors and www.atlascopco.co.uk/vacuum-solutions