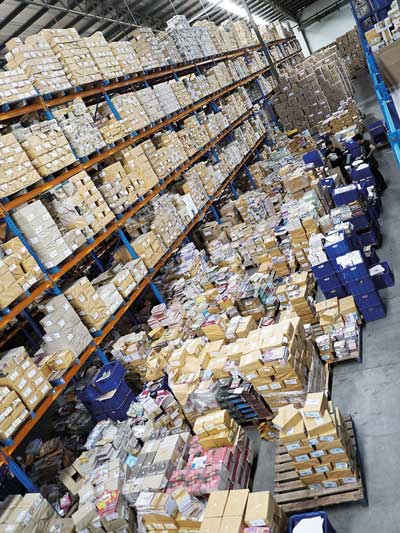 A manufacturer of materials handling equipment has voiced concern about a heightened risk of injury to warehouse workers amid stockpiling for Brexit.
The issue was raised after United Kingdom Warehousing Association chief executive Peter Ward said on the BBC's Newsnight in July that UK warehouses are already full.
"There is no available space. The market, as represented by our members, is virtually at capacity," he said. "The biggest concern at the moment is that the October [Brexit] deadline comes right bang in the middle of peak season. From a timing point of view it couldn't be worse."
Following the warning Midland Pallet Trucks said: "Concern is warranted for the safety and wellbeing of warehouse workers who are being tasked with lifting and loading a record number of deliveries ready for storage in the already limited spaces available. With record demand for warehousing space and a dramatic spike in the number of consignments needing to be processed on a daily basis, workers are at increased risk of musculoskeletal injuries as the pressure to process orders mounts."
Safeguarding the health and wellbeing of staff meant that materials handling equipment should be reviewed and added to if necessary, the company said.
Managing director Phil Chesworth said: "The amount of warehousing space available is severely limited thanks to Brexit stockpiling, so warehouse employees are expected to meet hefty targets to ensure that new consignments are processed as quickly as possible. Without the appropriate lifting equipment, these repetitive tasks can lead to strain and injuries. It is essential that warehouse managers provide their employees with the items needed to reduce the risk of injury and enhance productivity."
A survey of UKWA members before the original March EU withdrawal date revealed that 85% of respondents had received Brexit-related enquiries, mostly for short term requirements, while 75% had filled incremental space but were now 'full'. UKWA plans a further survey but believes that, if anything, the position will have worsened in the meantime.