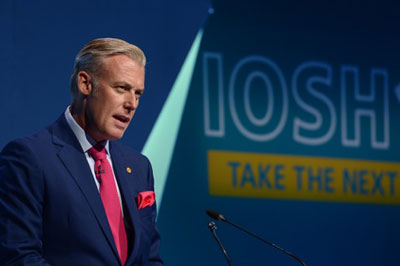 New IOSH president, global safety consultant Professor Andrew Sharman, has called on fellow members to challenge the perception that health and safety is "about rules and bureaucracy".
Professor Sharman believes this will change companies' perspectives on health and safety so that more businesses see its true value.
He said: "For far too long, our profession has been blighted by negative media attention and even ridicule. Our members have been standing strong against this, and forward-thinking organisations are becoming wise to the valuable contribution the best practitioners can bring to their business. As a result, perspectives are steadily changing. I'm determined that this continues to happen. Health and safety isn't about rules and bureaucracy and creating a burden. We need to challenge this perception and demonstrate the true value of what we offer."
Prof Sharman, chief executive of global health and safety consultancy RMS, took over as president of the Institution of Occupational Safety and Health at its AGM last month. The institution is the world's leading chartered professional body for people responsible for safety and health in the workplace, with over 47,000 members in 130 countries.
He urges health and safety professionals to respond to new risks created by the changing world of work and new technologies. He said: "Working globally, I see significant variation in how health and safety is approached. I'd like to explore how we can raise the bar across the planet, exploiting IOSH resources and networks, and members' knowledge and expertise."
He said it was necessary to look at elements in the workplace that shape culture and behaviour. Health and safety was "not really about preventing accidents but rather creating safety through improved teamwork, enhanced understanding, increased morale and engagement and better leadership".
Former army warrant officer James Quinn was confirmed as president-elect of the institution. He will become president in 12 months time. He left the Army in 2011 after 25 years. In his final six years he began to train as a health and safety adviser. After leaving the armed forces, he joined Babcock International as a health, safety and environment trainer. iHe s now health, safety and environment manager for construction contractor Multiplex.