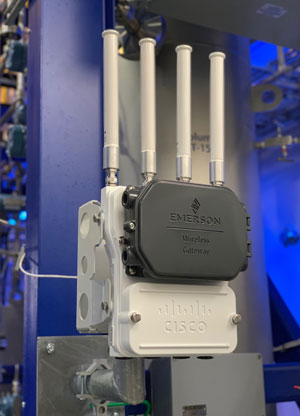 Transforming data management to improve plant productivity, reliability and safety is the aim of a new industrial wireless networking solution launched by automation specialist Emerson in partnership with Cisco.
The new Emerson Wireless 1410S Gateway with Cisco Catalyst IW6300 Heavy Duty Series Access Point combines the latest wireless technology with advanced "WirelessHART" sensor technology to provide reliable and secure data in harsh industrial environments, the makers say.
Its development was driven by demand for greater productivity, lower maintenance costs and improved safety. This is leading manufacturers to accelerate investment in robust internet of things sensor networks combined with scalable operational analytics tools to help improve decision-making.
"A secure connection that scales easily is the foundation for every successful IoT deployment," said Cisco senior vice-president and general manager for IoT Liz Centoni.
The new wireless access point provides the increased wi-fi bandwidth required for real-time safety monitoring, and supports mobile applications providing instant access to process control data, maintenance information and operation procedures.
It enables a reliable and fast connection between devices and people, which can help to streamline decision-making by providing real-time analytics and allowing mobile workforces to collaborate and resolve critical issues in a timely manner.
"Products installed in industrial plants need to last for years, even decades," said Emerson's vice president of wireless Bob Karschnia. "This kind of longevity was a critical design and engineering requirement to future-proof the new wireless access point in a rapidly evolving technology landscape."