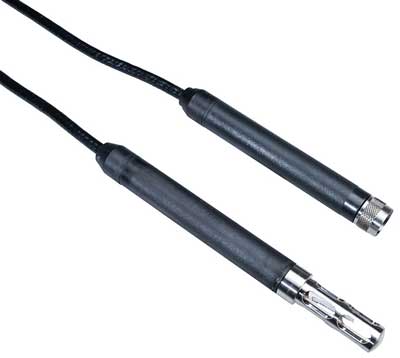 Rotronic has developed its range of industrial probes, providing even higher performance. It includes an industrial probe for the Rotronic continuous environmental monitoring system (RMS). Applications include manufacturing, pharmaceutical, food, process monitoring, paper, brick & tile industry, dryers, and climate test chambers.
The new probes are available in 100mm and 250mm lengths with factory fitted cable.
Enhancements
The latest Rotronic HYGROMER® HT-1 state of the art sensor is fitted, it measures temperature and humidity and calculates dew point values.
Highest measurement accuracy ±0.8%RH, ±0.1°C (10-30°C), fast and stable response.
Measurement up to 200°C, 100%RH, 93°Cdp.
Connector housing electronics are potted; the sensor head is steamtight.
Filters designed to suit all applications.
Due to the digital interface with all current Rotronic devices, probes can be exchanged in seconds when calibration or service work is due.
Rotronic sensors can be calibrated and adjusted giving them a long service life.
---
Contact Rotronic to discuss your application or project.
t: 01293 571000 | e: instruments@rotronic.co.uk | w: www.rotronic.co.uk