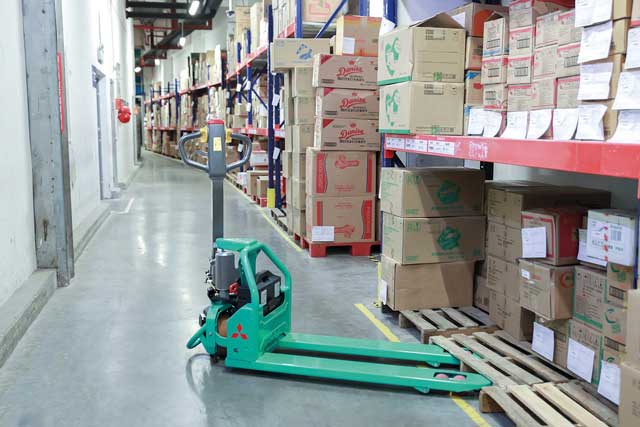 Is it time to consign the hand pallet truck to history? Stewart Gosling of Red Diamond Distribution, UK importer for Mitsubishi Forklift Trucks, explains why investing in the new breed of cost-efficient power pallet trucks can make economic as well as ergonomic sense.
If you're an employer, it's your responsibility to do everything reasonable to maintain the wellbeing of your employees. In the case of lifting and shifting heavy loads, that means making sure you provide the right equipment and training – and work within HSE guidelines.
Often these aren't prescriptive or precise, but for manual handling it means not only avoiding one-off incidents or injuries (the kind you might expect from moving an unusually heavy load) but also repetitive strain injuries.
That means taking into account the gradual and cumulative effect of frequent or heavy lifting on a worker's musculoskeletal system, as well as the damage such injuries could do to the smooth running of your business.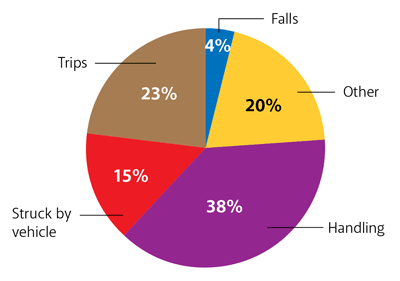 According to the HSE, more than a third of all injuries requiring at least three days off work are caused by manual handling (lifting, lowering, pushing, pulling or carrying). Most of these injuries are strains to arms, hands, fingers and back (which accounts for 47% of injuries) along with sprains to the wrists, thumbs and ankles.
On average, each sufferer took 20 days off in a 12-month period – which represents a massive inconvenience as well as a blow to your productivity.
Hand pallet trucks
If you are moving loads frequently, it is the cumulative strain that causes the problem. Moving heavy loads by hand pallet truck, it's the effort involved in starting and stopping – as well as keeping the truck in motion – that are the key issues.
The official guideline figure for starting or stopping a load is about 20kg for men (typically the maximum baggage allowance at an airport check-in) or 15kg for women. The acceptable figure for keeping a load in motion is 10kg for men and about 7kg for women.
Independent research on 17 different makes of hand pallet trucks, moving loads of 500kg and 2000kg, found that starting a 500kg load from stationary took, on average, an effort of 23.3kg. For a load of 2000kg, the force required was 49.6kg – well above the official guidelines.
Raising a 2000kg load on a pallet truck was also very demanding, on average taking a force of 35.1kg . Even keeping a 2 tonne load in motion – at 30.7kg – exceeded the guidelines by 53.3%.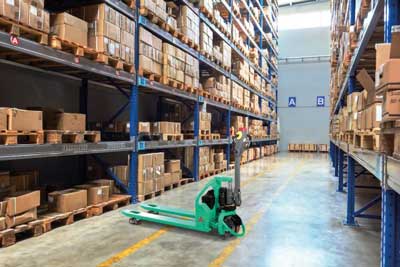 An alternative
For any business that uses pallet trucks frequently or to move heavy loads, it makes sense to switch to a powered pallet truck. Until recently the biggest obstacle to doing so has been cost.
But a new breed of intermediate power pallet trucks – like the Mitsubishi PBPL – offers a really effective solution at around half the cost of a conventional power pallet truck.
The PBPL uses a high-capacity 48V lithium-ion battery as the power source for motive and lifting functions. The battery is totally maintenance-free (with no topping up and very rapid charging times); each charge gives up to six hours of productive use. Moving anything up to 1500kg is almost child's play, with excellent levels of safety thanks to features like twin disc brakes that are applied automatically when the drive button is released.
Moreover, the use of a regenerative braking system not only improves braking performance but also extends the working shift. The truck's motor acts as a generator, converting much of the kinetic energy that, using conventional friction brakes, would be lost as heat, back into stored energy in the vehicle's battery.
Conclusion
Unless you can reduce the size of each load to 500kg or less while also minimising the number of operations, there is a case for seriously considering mechanising the handling process by switching to a battery power model. Given the increased productivity as well as the reduction in time taken off with injury, it could make economic as well as ergonomic sense.
---
Further information: www.mitsubishi-forklift.co.uk
Email: info@red-diamond.co.uk | Tel: 0845 3713048