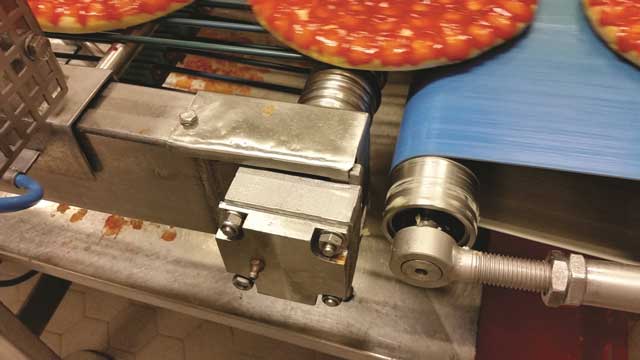 The food processing industry's demanding hygiene requirements call for a bearing specifically designed for the conditions, says Tim Cains, NSK Europe European AIP services manager.
The conditions that bearings have to face in the food sector include chemical exposure, washdowns, extreme temperatures, and even contamination. Since bearing failures can easily shut down entire processing lines, understanding the causes of such problems and acting quickly to find solutions is vital.
One of the most common issues for food processing plants is sourcing bearings that are able to cope with potential water ingress. Food manufacturing facilities require hygiene, cleanliness and, consequently, frequent washdowns. Jets of water or steam, sometimes containing an industry-approved detergent, are applied under pressure.
Standard bearings used in such applications will not be able to resist water penetration, and will consequently have a shorter working life. This brings about increased costs, not just in bearing replacement, but in maintenance time and lost production. With these thoughts in mind, increasing numbers of food plants are turning to bearings that are developed using special materials, sealing technologies and lubrication.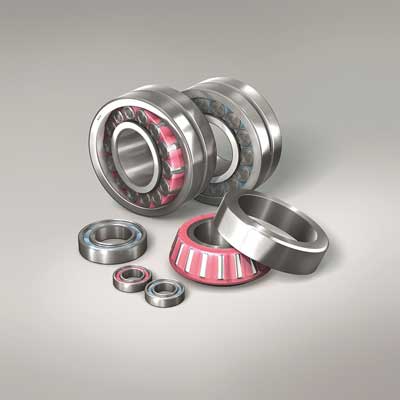 A case in point is the Molded-Oil series of bearings (stainless steel variant) from NSK. Not only do these bearings prevent the ingress of contaminants such as water and particulates, but no lubricant can escape the bearing and enter other parts of the machine, where it could conceivably contaminate food.
A special concept in the field of tribology – the science of wear, friction and lubrication – has been employed in Molded-Oil bearings. The bearings are equipped with a proprietary oil-impregnated material that consists of lubricating oil and a polyolefin resin with an affinity for oil. The carrier material releases the lubricant continuously over a long period. The operating environment is kept clean because no grease can leak out and no oil refilling is needed. The lubricant cannot be washed away by steam or liquids.
Among those recently taking advantage of Molded-Oil bearings is a large bakery that replaced the bearings used in its cake-cutting machines after experiencing repeated failures on the integral blade saw pulleys. Around 20 bearing sets (40 individual bearings) were being replaced annually. NSK engineers were asked to commence an application review as part of the company's AIP Added Value Programme, and concluded that the failures were caused by the ingress of water and particles.
Changing to Molded-Oil bearings has provided an extension in operating life to 26 weeks, an improvement of some four to six times in comparison with the previous standard bearings. The reduction in maintenance costs and increased productivity has led to total savings of approximately €9,400 (£8,400) a year.
Elsewhere, a manufacturer of frozen pizzas was experiencing failures every four weeks on the belt tensioner serving one of its food conveyors. Again within the framework of the AIP programme, the NSK team found that bearing damage was mainly due to frequent cleaning of the production line using water. This process was causing damage to the bearing seals, as well as corrosion of the rolling elements and raceways. A simple change to Molded-Oil bearings resulted in significantly prolonged operating life, saving circa €15,400 (£13,800) annually.
At a vegetable processing plant in Germany, the move to Molded-Oil bearings helped the company extend service life on a critical conveyor from two weeks to 40, saving considerable maintenance costs and downtime. In this instance, NSK supplied the bearings with advanced contact seals (DDU) on both sides for even higher levels of protection.
As a rule of thumb, in applications where the operating environment is moist and dust-contaminated, the service life of Molded-Oil bearings is more than twice that of bearings with conventional grease lubrication. However, as can be seen by the examples provided, the actual gains achieved are often far higher.
---
Further information contact:
Marie-Dominique Pilath, tel +49 2102 4811280,
E-mail : pilath-m@nsk.com