The World Economic Forum's Global Lighthouse Network aims to show the way to successful adoption of Industry 4.0 technology, says Francisco Betti, the organisation's head of advanced manufacturing industry.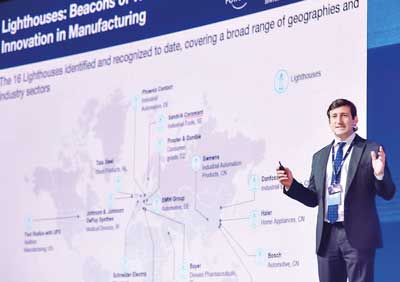 The world of manufacturing and production is changing. And while Fourth Industrial Revolution (4IR) technologies are enabling new levels of interconnectivity and efficiency, more than 70% of manufacturers remain unable to scale these advancements – trapped in "pilot purgatory".
Recognising the need for concrete examples of manufacturing sites that had overcome those transitional challenges, in 2018 the World Economic Forum, in collaboration with McKinsey & Company, began to identify "Lighthouse" manufacturing sites – beacons that had managed to scale and integrate multiple 4IR technologies throughout their manufacturing systems and processes.
Lighthouses serve as real-world evidence to dispel widespread myths and misunderstandings posing obstacles to the adoption of innovative technology at scale. These beacons shed light on the characteristics, differentiators and success factors that realise optimal scaling.
Since 2018 this effort has identified 26 lighthouse sites around the world. While the identification of these sites is critical, for the lighthouses to truly have an impact, this effort needed to be more than just an award to those who had already begun to realise the potential of the 4IR. To fulfil the potential of these lighthouses, the Global Lighthouse Network was officially launched during the World Economic Forum's Annual Meeting in Davos-Klosters, Switzerland. This network aims to accelerate the inclusive diffusion of 4IR technologies across manufacturing sectors by creating a global learning journey through which lighthouses share best practices and develop new partnerships to support and optimise the global manufacturing ecosystem.
The World Economic Forum continues to collaborate with McKinsey to identify not only lighthouses deploying new use cases at an individual factory level, but also across multiple factories (scale) and across entire value chains (end-to-end connectivity).
Lighthouse candidates are assessed on four main criteria:
Step-change impact achieved;
Multiple integrated use cases;
Scalable technology platforms;
Enablers in place.
After conducting site visits to all potential lighthouses, an external and neutral expert panel reviews the candidates and makes the final decision on whether they will be included in the Global Lighthouse Network.
By continuing to expand the Global Lighthouse Network, and by placing the learning journey at its heart, this effort hopes to make manufacturing industry's transition through the Fourth Industrial Revolution as smooth as possible while avoiding increased inequality and "winner-takes-all" outcomes.
---
www.weforum.org/projects/technology-and-innovation-for-the-future-of-production
---
Lighting the way
David Fowler looks at the 26 sites at the vanguard of Industry 4.0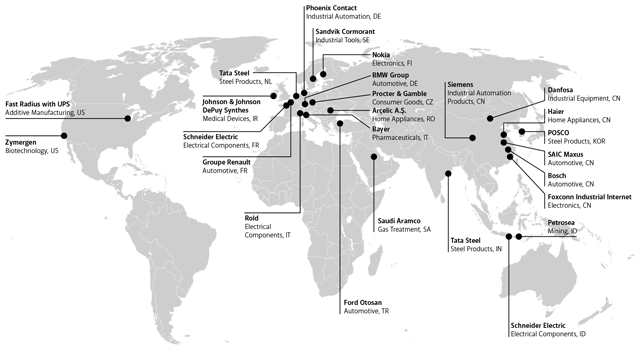 Last September, after a year-long study, the World Economic Forum announced a list of nine of the most advanced factories in the world.
The nine "lighthouses" recognised those leading manufacturers making the greatest strides in adopting Industry 4.0 on a large scale.
The potential productivity gains arising from Industry 4.0 technologies such as big data analytics, artificial intelligence and 3D printing have been well-rehearsed. But earlier work by the forum had found that over 70% of businesses investing in these technologies failed to progress beyond the pilot phase.
The network of lighthouses, then, was not just announced for its own sake, but with a wider purpose: to help overcome the practical challenges being experienced by industries as they seek to upgrade their technology.
The first wave of nine factories – selected from an initial list of 1,000 – included three in China, five in Europe and one in the US. "The geographic distribution of the nine lighthouses demonstrates that while Europe has struggled to produce its own home-grown internet giant, the region remains a powerhouse when it comes to applying advanced technology to manufacturing", the forum said. The lighthouses also demonstrated that Industry 4.0 innovation is achievable in both emerging and developing economies as well as the developed world.
Since then, two more waves, the latest in July this year, have taken the total to 26. A significant feature of the second wave was the inclusion of the medium-sized Rold, based in Italy, demonstrating that although many smaller businesses feel they lack the scale and resources to adopt advanced technologies effectively, this can be overcome.
A white paper published by the forum and its collaborator on the programme, McKinsey, to coincide with the January wave identified three technological "megatrends" driving the transformation in production achieved by the lighthouses: connectivity, intelligence and flexible automation.
"Front-runner production sites that have embraced these megatrends at scale have seen a step change in performance," it said.
It added that "lighthouses are injectors of human capital. Rather than replacing operators with machines, lighthouses are transforming work to make it less repetitive, more interesting, diversified and productive." In addition, lighthouses "have moved beyond the continuous improvement efforts that have characterised factories for decades, instead making a change that resets benchmarks." And they had achieved this "with minimal replacement of equipment. Most were created by transforming existing brownfield operations. Optimising existing infrastructure and augmenting it with new machinery can deliver many benefits."
Below we give details of some of the most interesting lighthouse sites, with a particular focus on the use of Industry 4.0 technology for improving maintenance and monitoring.
Bosch Automotive (Wuxi, China): Uses advanced data analytics to understand and eliminate output losses, simulate and optimise process settings, and predict machine interruptions before they occur.
Danfoss, Commercial Compressors (Tianjin, China): This factory makes compressors for refrigerators, air conditioning units and other products. Using digital tools such as smart sensors and an automatic monitoring system to improve quality control, it improved labour productivity by 30% and decreased customer complaints by 57% in two years.
Foxconn (Shenzhen, China): Factory specialising in components for smartphones and other electrical equipment adopted a fully automated manufacturing process, with machine learning and AI driven automatic optimisation of equipment, smart self-maintenance and real-time status monitoring. It achieved efficiency gains of 30%.
Haier (Qingdao, China): Introduced an artificial intelligence led mass customisation platform and a remote AI-supported, intelligent service cloud platform to predict maintenance needs before they happen.
Johnson & Johnson DePuy Synthes (Cork, Ireland): Maker of orthopaedic knees and hips has used internet of things technology to create digital representations of physical assets, resulting in lower operating costs and a reduction in machine downtime.
Petrosea (Tabang, Indonesia): A loss-making mine in a remote location was transformed into a profitable entity in six months, through Industry 4.0 techniques such as optimised truck dispatch, real-time monitoring, and drone surveys.
Rold (Cerro Maggiore, Italy): This 240-employee business making locking mechanisms for washing machines and dishwashers is the first medium-sized company to join the Lighthouse network. Use of technology such as smart watches, rapid prototyping and digital dashboards helped improve turnover by between 7% and 8%.
Saudi Aramco Uthmaniyah Gas Plant (Uthmaniyah, Saudi Arabia): A giant gas-processing plant adopted Industry 4.0 technologies including advanced analytics and artificial intelligence, the use of drones to inspect pipelines and machinery (cutting inspection times by 90%), and wearable technologies such as digital helmets that help workers cut the time it takes to make inspections and repairs.
Schneider Electric (Le Vaudreuil, France and Batam, Indonesia): Schneider Electric has two plants in lighthouse network. The Le Vaudreuil factory has implemented the latest digital tools such as the company's EcoStruxure Augmented Operator Advisor, which enables operators to use augmented reality to speed up operation and maintenance, helping to reduce maintenance costs by 30%, while increasing overall equipment efficiency by 7%. The Batam location developed a full spectrum of Industry 4.0 solutions (such as an IIoT platform) that were then shared with the wider Schneider Electric community.
Tata Steel (IJmuiden, The Netherlands): Plant with 9,000 employees created an advanced analytics academy to help workers come up with solutions to reduce waste, and improve the quality and reliability of production processes, with a significant improvement in financial results.