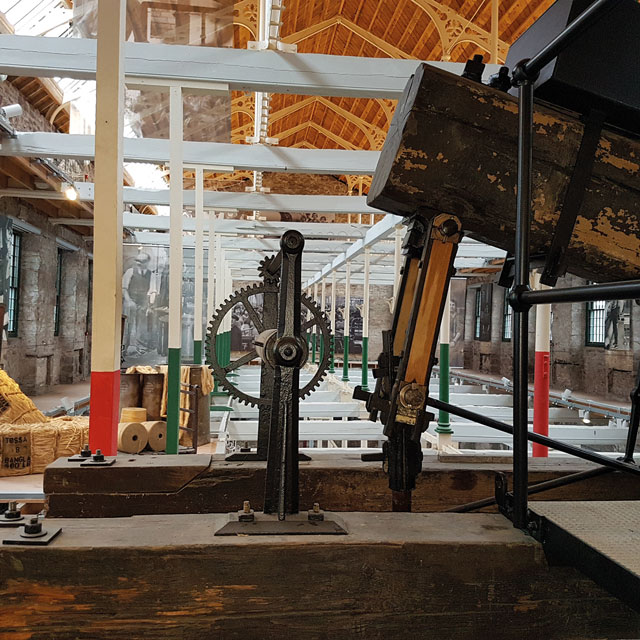 The only surviving Boulton & Watt engine to have worked in Scotland has been presented with the Institution of Mechanical Engineers' prestigious Engineering Heritage Award. The award was made at an event marking the 200th anniversary of James Watt's death.
The Douglasfield Engine is one of only four surviving rotative engines by Boulton & Watt in the UK. It was used to turn machinery at William Sandeman's Douglasfield Bleachworks, located on the Dighty Burn just outside Dundee.
At the beginning of the 19th century, Douglasfield had the lion's share of Dundee's bleaching trade, an important element of the thriving local linen industry. The engine, which cost £517, was ordered from Boulton & Watt in February 1801 and was installed at the bleachworks in March 1802.
A complex project to restore the engine was led by Dundee City Council, Leisure & Culture Dundee and Dundee Heritage Trust. It involved a team of experts from all over the UK and was supported by the Heritage Lottery Fund, Museums Galleries Scotland and the Association for Industrial Archaeology. The engine has been installed at Verdant Works, a museum which tells the story of Dundee's industrial jute textile heritage in a refurbished mill building.
The Engineering Heritage Awards recognise pioneering engineering artefacts, locations, collections and landmarks. Unveiling a commemorative plaque, IMechE past president William Edgar CBE said: "The Institution of Mechanical Engineers is delighted to be presenting this award to such an important piece of engineering heritage, the only surviving Watt engine to have worked in Scotland and the only one that remains close to its original place of working."