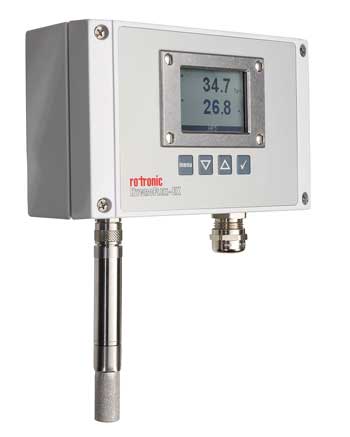 Rotronic is a leading Swiss manufacturer of precision Intrinsically Safe sensors and measurement transmitters with selectable analogue outputs, suitable for use wherever there is a risk of explosion due to dust or gas in the environment. They were developed for the pharmaceutical, biotechnology, grain & sugar, petrochemical, and oil & gas industries.
Conforming to the latest international standards, the Intrinsically Safe (secondary side) HygroFlex5-EX transmitters have two-channel 4-20 mA outputs. For many installations there is no need for an Intrinsically Safe power supply, dedicated clean earth or Zener barrier. Interchangeable probes are available for all applications, including a screw-in probe for pressure environments and a low dew point probe.

Significant features:
Stainless steel probes certified for operation in Zone 0/20
Standard and cable mount probes, screw-in probe for applications at pressure
HygroFlex5-EX measurement transmitter certified for Zone 1/21
Intrinsically Safe, secondary side
Wall and duct mount transmitter versions available
2-wire power supply, two scalable analogue outputs
Dew point, mixing ratio (g/kg) and other moisture values available
Robust aluminium transmitter housing; IP66 protection
LC display option with trend indicators; keypad
Service interface (USB) for configuration using Rotronic HW4 software
Range of calibration accessories available
A technical datasheet is available. Call Rotronic on 01293 571000 to discuss your application or project.
---