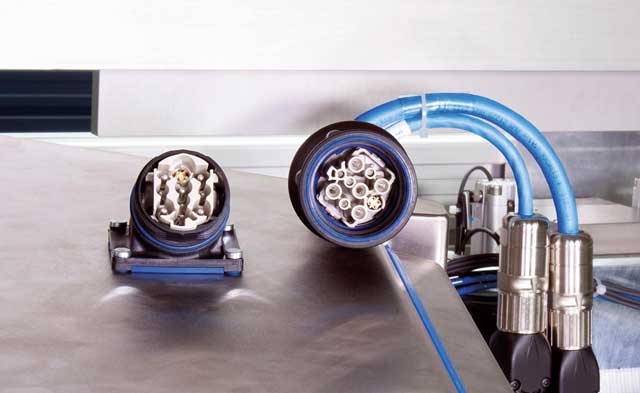 The Harting Han® connector was first developed in the 1950s, and since then the range has expanded and advanced, an ethos of continuous innovation that provides customers with simple yet reliable solutions.
The newest addition to the Han® portfolio is the Han® F+B, a range of connectors which have been specially designed for the requirements of the food processing, bottling and packaging industries. In these sectors, hygiene and safety are key considerations, meaning machines and equipment must be both easy to clean and designed so dirt pockets and bacteria cannot accumulate.
Before creating the range, it was important to recognise how a production site in the food and beverage industry is divided up. The EN 1672-2 standard defines three distinct zones for food production, which differ in contamination risks and the number of cleaning cycles required. Zone 1 is the food zone, where components come into direct contact with foodstuffs. Zone 2 is the splash zone, where components must be cleaned regularly using high pressure washing and chemicals to avoid contamination. Anything outside these two zones is classed as a non-food zone, where the contamination risk is minimal.
The Han® F+B has been specifically developed as a suitable product for the food zone and primarily the splash zone, and there are several innovations which make it the ideal solution. Firstly, all hoods, housings and seals are IP69K rated, so the connections are fully protected and resistant to the water jets used to clean equipment.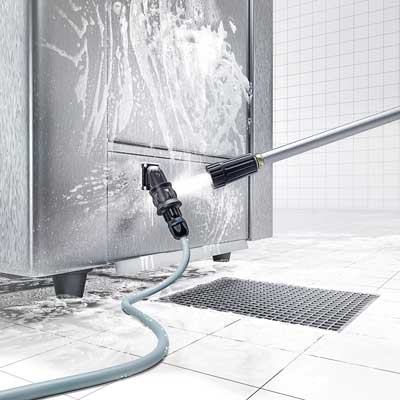 They also have large nooks and surfaces in accordance with the guidelines of the European Hygienic Engineering & Design Group (EHEDG), which allows cleaning and disinfecting agents to flow unhindered. For secure identification and easy traceability, the connectors are blue, although a black version is available.
The range is Ecolab approved, which means it is resistant to the highly aggressive cleaning agents used in the food and splash zones. As the housings are constructed from polypropylene, they conform to the directives of FDA 21. All surfaces have a smooth finish, which prevents impurities and bacteria from accumulating, and the range can function in a wide temperature range from -40 to +125° C.
Cable glands are available which include variants made of PA plastic in combination with blue silicone sealing rings, which achieve the highest degree of protection against penetration of dust and water.
As well as hygiene and safety concerns, Harting has also considered the impact of machine downtime, designing in features which keep disruption on the production line down to a minimum.
Customers are increasingly looking for solutions which allow them to embrace flexible schedules and smaller batch production, meaning businesses must become adaptable in order to meet these demands. As a result, the ability to attach and detach connectors quickly is vital if costly production downtime is to be avoided.
With the Han® F+B, operators do not need to open any cable glands on the control cabinet in order to decouple field devices, eliminating complex disconnecting and reconfiguring of fixed wiring. This solution also allows for faster replacement of defective components and a more efficient method of changing equipment, allowing businesses in the food industry to shorten set-up times and reduce production stoppages.

n addition, the Han® F+B series has been designed so it can be plugged and unplugged easily, safely and quickly. Special fluting in the housing walls ensure that the installer's hands do not slip off the connector, even in damp or humid conditions.
The housings can be used with hybrid contact inserts for all types of industrial transmission, including data, signal and power, a versatile connector concept which makes it possible to configure future-proof machine design for processing units, including Ethernet. With the use of an adapter, the user can integrate a selection of Han® 3A inserts, including RJ45 interfaces, signal inserts with up to 21 poles and power contacts for currents up to 40 A.
---
To learn more about the Han® F+B and download our FREE whitepaper, which gives more detailed information about using connectors in food and beverage facilities, please visit www.harting.com/UK/en-gb/connectors-food-industry or email salesuk@harting.com