Automatic relubrication can reduce motor costs and improve performance, says Schaeffler service engineer Ian Pledger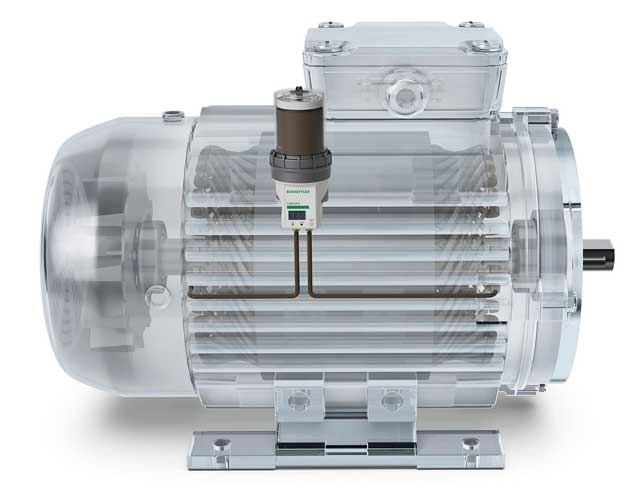 Automatic relubrication devices provide fresh lubricating grease to the contact points of an electric motor's rolling bearing in the desired quantity and at the right time. They can be controlled externally as required and are easy to integrate into machine operation.
Under and over-lubrication, and the resulting downtime, can be avoided, as can system contamination due to excess lubricant. For maintenance personnel, automated relubrication devices mean considerably less work, improved operating reliability and often reduced maintenance costs.
Schaeffler has developed an 'e-kit' specifically for electric motors. This kit is suitable for use with the automatic Concept2 lubricator, which can independently supply up to two lubrication points with grease.
The e-kit includes the Concept2 lubricator (as either battery-driven or 24V variant) and all the accessories required for mounting and installation. Existing lubrication systems can thus be easily converted to fully automatic operation.
The kit contains angled hose connectors and a 3m length of hose which can be cut to length as required. Also provided are a mounting bracket and parts for mounting at an angle of 45 or 90 degrees, and connectors for a 6mm diameter hose to replace the existing lubrication nipple.
Concept2 uses Schaeffler Arcanol lubricating greases. They provide specific lubrication properties for almost every type of industrial application. All Arcanol lubricants are extensively tested for suitability. This includes many rig tests which simulate a range of installation conditions and investigate the interaction between the rolling bearing and the lubricating grease under real conditions.
Generation C bearings
The company's Generation C range of deep groove ball bearings incorporate two new sealing concepts. Reduced grease loss and better protection against contamination extend the grease operating life and therefore the operating life of the bearing. The new Z-type dust shield with its labyrinth seal helps to reduce grease loss by 20%, and reduces contamination by 30% compared with the previous design. The optional patented ELS lip seal provides maximum sealing at low friction and is particularly suitable for alternating axial loads, such as those in the wheel bearings of motorcycles. The improved sealing, without any additional friction losses, is due to the shape of the lip, which is perfectly matched to the ring recess.
The recesses have been moved to the interior of the bearing, significantly improving its robustness during handling and mounting. Non-contact BRS lip seals and HRS lip seals, which start at the inner ring, are available with increased sealing performance in the standard range.
The high quality of the balls and a noise-optimised cage enable Generation C bearings to run at significantly reduced noise levels compared with conventional deep groove ball bearings. Optimised osculation reduces friction. These characteristics result from numerous improvements to raceway parameters such as roundness, waviness and roughness, plus tighter manufacturing tolerances. Reduced friction also means lower energy costs during operation.
Current-insulated bearings
Although deep groove ball bearings are often the most suitable type of rolling bearing for electric motor applications, Schaeffler also provides other types such as cylindrical roller bearings, angular contact ball bearings, spindle bearings and axial self-aligning roller bearings. Many of these can be offered as current-insulated versions with either a ceramic coating on the rings or ceramic rolling elements to provide protection against damaging current transmission.
For example, ball bearings can have their inner or outer ring coated with Insutect ceramic coating, which provides secure protection against disruptive voltages from 1,000V DC to 5,000V DC.
---