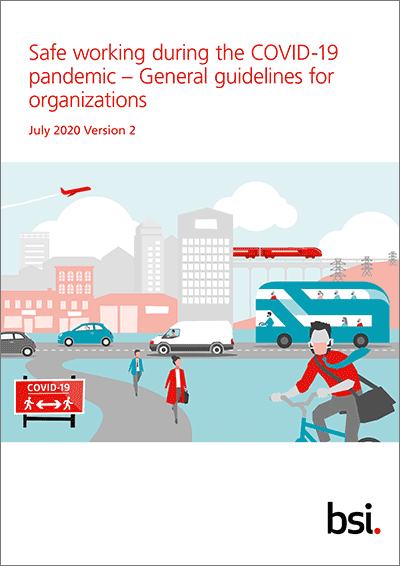 Updated guidelines to help organisations operate safely, protect employees against the risk of Covid-19 spread and build long term resilience have been published by national standards body BSI.
Version 2 of the body's Safe Working Guidelines provide advice on safety planning and assessment of risk, alongside new guidance on managing suspected or confirmed cases of coronavirus in all workplaces.
"As many organisations reopen their doors to customers and staff, we are faced with the challenge of protecting the public by helping to prevent work-related outbreaks of the virus," said BSI director of standards Scott Steedman.
"Working with technical experts, BSI has set out clear and practical guidance for organisations to mitigate the risks of Covid-19, minimise transmission, and manage suspected and confirmed cases."
The newly updated guidelines include hundreds of contributions from experts from industry, academia, and governments globally, to consolidate practical guidance and experience from the pandemic.
The document includes recommendations to treat any person who becomes unwell in the workplace as potentially having Covid-19, isolate and provide them with a face mask and require them to go home (or to a medical facility).
Businesses should establish whether an affected worker has been in close contact with other colleagues and support those workers in self isolating, as well as making sure the areas the affected person has been in are either isolated or cleaned.
The guidelines also state that reasonable adjustments should be made to support employees returning to work after contracting Covid-19, taking into account their physical and psychological needs.
Safety measures must be made inclusive and accessible to everyone and recognise the importance of workers' psychological health and wellbeing, the document adds.
The BSI intends to continue revising the guidance as frequently as necessary to reflect the dynamic situation. Each revision will take into account public feedback, government guidance, the level of risk, and emerging knowledge. The third version of the guidelines is expected to be published in August
To download Version 2, visit: www.bsigroup.com/en-GB/topics/novel-coronavirus-covid-19/covid-19-guidelines/
The HSE has also published guidance on conducting a risk assessment as part of its advice on working safely during the Covid-19 outbreak, available here: https://www.hse.gov.uk/coronavirus/working-safely/risk-assessment.htm