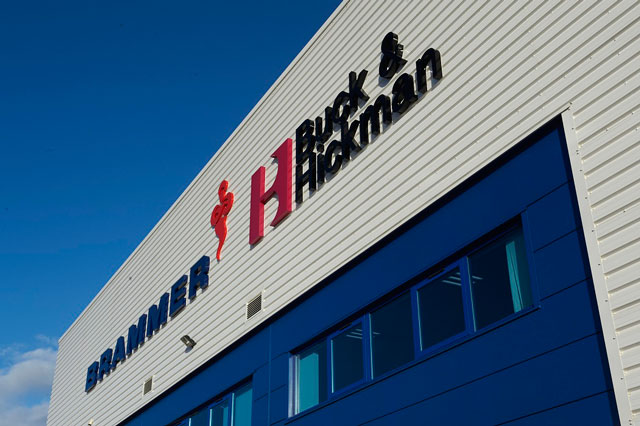 Leading industrial supplies specialist Brammer Buck & Hickman last week opened its new engineering service centre.
The centre, in Wolverhampton, will offer specialist workshop, repair and engineering services designed to reduce downtime and increase efficiency for customers nationwide.
It is the third to become fully operational, following Leeds and Glasgow, with Maidstone and Cardiff to follow over the coming months. The centres allow Brammer Buck & Hickman to provide engineering expertise on a local basis throughout the whole of the UK.
To complement its longstanding practical engineering expertise in gearbox, pump and motor repair, with its partner Interface Condition Monitoring the company now offers condition monitoring including vibration analysis, ultrasonic sensing and thermal imaging. Experts are available to advise customers on minimising repair downtime and offer advice on process and efficiency improvements.
In a new departure, the Wolverhampton centre is also home to the company's new Product Proving Centre. Using state of the art Haas CNC machines and CAD software, the proving centre can be used to investigate high precision components and evaluate the best way of manufacturing them, as well as offering advice on the most efficient tooling options.
Nigel Banks, managing director of value-added service at Brammer Buck & Hickman, said: "The investment in our engineering centres is part of a wider move towards adding value for the customer by offering access to comprehensive service to support the maintenance and repair of production machinery."
Andy Batey, head of engineering, said the company began offering a gearbox repair service in 1983. It diversified into pumps, compressors and other machinery. In response to customer demand it started to offer a turnkey service in which BBH would remove and replace the machine, and re-commission it if necessary. This has culminated in the recent addition of condition monitoring services including   and asset management. "We can manage the machine for the rest of its life if that's what the customer wants," Mr Batey said.
Simon Pearson, category manager for machining, said, "The Product Proving Centre is a particularly exciting addition as it enables us to prove that the latest cutting tool technology and machining techniques can save costs, while reducing downtime. Customers can see for themselves the savings available to them without the need to stop their own production to carry out tests."