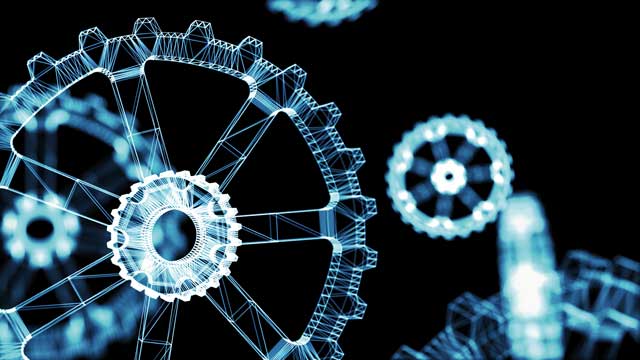 David Fowler reports on a Roundtable discussion held as part of the inaugural meeting of the M&E Editorial Advisory Board.
UK firms are often adopting Industry 4.0 techniques in a piecemeal fashion, without necessarily having clear objectives, and many barriers remain to their take-up including poor recording, management and use of data.
That was the verdict of Maintenance & Engineering's Editorial Advisory Board in a Roundtable discussion on digitalisation.
The group, consisting of academics and consultants at the front end of developments, debated the likely trends in the adoption of digital techniques in the short term and how effectively the process was being undertaken.
Included under the heading of Industry 4.0 technology were the internet of things, digital analytics, augmented and virtual reality, the use of cobots, and artificial intelligence.

"These techniques are becoming buzzwords, but the big question is are they being adopted?" asked Dr John Ahmet Erkoyuncu, deputy director of the Through-Life Engineering Services Centre at Cranfield University, chairing the Roundtable. The meeting considered the maturity of the UK approach, whether the techniques were being used effectively, the barriers to their uptake, and the question of whether government initiatives such as Made Smarter could help.
Industry 4.0 Adoption
There was a general perception that in predictive analytics and condition monitoring, data was badly recorded and badly stored, data governance was poor, and in many cases nothing was done with the data. Getting the data into the right shape and storing it correctly was a huge job. People recorded data in separate "silos".

Dr Peter Geake, a senior consultant with Jacobs Consultancy, said he had chaired a conference on digitalisation of integrity management in the oil and gas industry. "What came out was a great desire to make better use of data and make more value of it, but the immediacy of the need to get value meant people often jumped to solutions rather than thinking them out from an integrated perspective. Getting them to take a more systematic or systemic view was quite a challenge," he said.
Instead, he argued that the starting point should be to ask "what decisions do you actually make, what would aid that process and therefore what information do I need?". From this the required data inputs and outputs could be established. "That whole thinking was a bit startling for that group. There's a huge educational piece there in understanding the systematic approach," he said.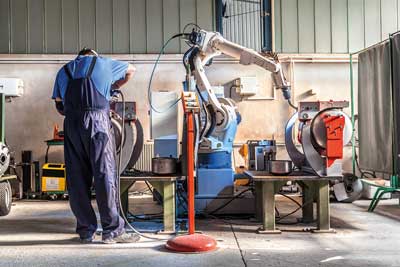 Dr Erkoyuncu said that there was a big challenge in UK manufacturing relating to productivity, especially for small and medium companies. By contrast, in Germany the use of robotics, for example, had increased at a much faster rate. "The number of robots has increased dramatically in Germany – the number of robots per person is much higher."
MCP Consulting Group head of business development and training John Saysell said that the take-up of robots varied greatly depending on the industry sector. They were used extensively in the pharmaceutical industry, and the automotive industry was very advanced in using robots for tasks such as welding.

There was a general acceptance that robots were being used widely for packing in sectors such as food manufacturing. "Robots on the end of the line are replacing low-skilled labour," said Dr Atai Winkler, principal consultant of PAM Analytics. It was felt that the UK relied too much on cheaper labour from overseas. One effect of Brexit could be to limit the supply of such workers – and as a result drive further automation. But at the same time it was necessary to invest in recruiting experts in the technology, and it was felt that there might not be the required numbers of software and robotics engineers to program and make use of the robots.
Regarding cobots, it was felt that in maintenance, as opposed to on manufacturing lines, their application could be more challenging. "In maintenance there's the need to diagnose, and the problem can be different every time," said Dr Erkoyuncu.
Barriers
Dr Erkoyuncu referred to a recent survey of small and medium companies in the UK, which had uncovered a reluctance to adopt new technology. "This may be the biggest barrier to Industry 4.0 and digitalisation," he said. "These firms won't bring in a new technology that they feel is not proven."
Technology such as augmented reality and artificial intelligence are not necessarily proven, he continued. "In many ways they need to be developed for a specific purpose for a specific company's needs. They're not off the shelf, where you can just pick it up and use it."
Dr Geake added: "The only times I've seen an organisation do that [adopt an unproven technology] has been when the organisation is in a distressed state and it has no alternative but to take a leap of faith."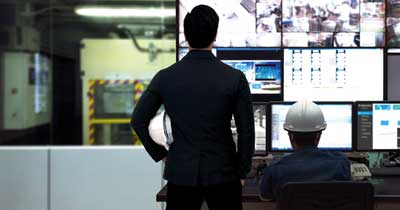 Other barriers were considered to be cybersecurity, which was felt to be an increasing challenge.
Another was identifying a return on investment to convince senior management to invest in the technology. Mr Saysell said: "From a maintenance perspective, the approach we use is to do a criticality study first, so we identify a critical asset, make sure you focus on it and then make sure you analyse the data."
"It's a huge task to persuade people," said Dr Winkler. "When we give presentations we've adopted the approach of giving a very technical presentation to the relevant technical people. The very technical people are the ones who get it best. For the non-technical people, they don't get where are you coming from and what are you trying to do. The more technical people understand their problem, they might know what the solution is, but they don't have a solution at hand and then know how to implement it."
Dr Erkoyuncu felt there was a different approach between large and small companies. "For large companies it's built into their systematic annual review, and they have a budget allocated for R&D… they have a kind of structure which is continuously exploring improvement. But with the SMEs I don't get that feeling. With techniques such as lean manufacturing, the kind of things where you can train people, that seems to be more feasible for them to adopt than picking up a new augmented reality device. Skills seem to be easier to handle than bringing in technology."

Mr Saysell pointed out that there was often a mismatch in resources – typically a company might buy a new machine for £4m but only allow £4,000 for training in its operation and maintenance.
Data
There was a general feeling that the collection and use of data left much to be desired. Dr Erkoyuncu said digitalisation required asking which data do we need to collect and why do we need it, but he felt these questions were not being asked enough and instead companies were trying to collect everything.
Dr Geake said: "I agree that harvesting data to describe everything without really understanding if you need to or not is bad enough, but then if you put it into a rigid data system which you can't manipulate easily or remap easily, you can really waste very significant sums of money."
It was difficult to get companies to understand the benefits of a flexible database in which everything was time -stamped and mapped so that it could be manipulated. "Even if you can't make up your mind what data you want, at least put it in something where you can manipulate it, and then if you've got it wrong you can put it right."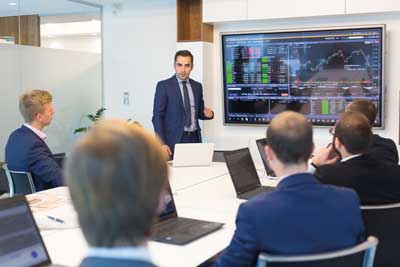 Most data is still collected and input manually, by hand, even in large high-tech firms. "How do you engage the person who enters the data?" asked Dr Geake. "How do they benefit from entering the data? If they don't benefit in some way they don't pay attention and they don't want to do it. How do you catalyse that interest?"
Dr Winkler said that usually the person collecting the data was a very small cog in a big organisation. They would be likely to regard many parts of their job as having no purpose or being just form-filling and would probably see collecting data in the same way. They might have no idea where the data went or what it was used for.
Dr Geake felt it was vital for a company to employ a data scientist. And based on the principle that the board of directors should manage risks enterprise-wide, he said: "The board should manage data enterprise-wide. Data management should be reported to the board so they've got the data under control for the company."
Automation, skills and employment
Dr Erkoyuncu said: "A big perception and resultant worry is that when you bring robots in, employment's going to go down."
He felt that evaluating the impact of technology from a socio-technical perspective was an area that was not receiving enough attention. He had recently given a presentation in a defence setting about how augmented reality could improve productivity and efficiency. "At the end of the presentation a few people came up to me and said, 'Your technology's going to reduce employment'."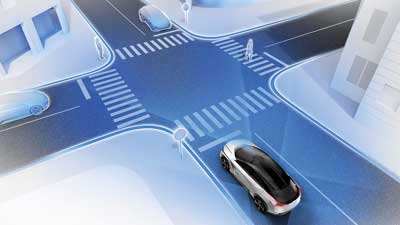 Dr Geake felt that in many cases it would be possible to redeploy people. Many departments were actually under-resourced, and increased automation might allow them to do things they should have been doing but were neglected because of a lack of time.
Dr Winkler argued that "Technology has always increased the range and breadth of work, not decreased it."
Dr Erkoyuncu said Nissan expected to have autonomous vehicles on the market by 2021, and they would depend on AI. "The numbers are probably debatable but AI is coming into use already. I wouldn't be surprised if it has a big impact in maintenance soon."
Government initiatives
The board considered whether government/industry projects such as the Made Smarter initiative could help overcome some of the barriers and increase uptake of new technology?
Dr Geake had been involved in two initiatives managed by the DTI and Eureka in the field of asset management. "I think technically they both produced brilliant things but the adoption was poor," he said.
Dr Erkoyuncu said: "The UK is one of the world leaders in research, but in taking that research, adopting it and implementing it, its record is not great." He was aware of examples of research done in the UK being picked up and implemented by other countries.
The general feeling was that the long-term benefits derived from such initiatives was not at the level it should be. Dr Geake thought this might be another manifestation of the UK attitude of being hesitant about anything new and original. "It's a terrible pity but there we are," he said.
---