The UK manufacturing sector showed the greatest rate of contraction since July 2016 last month according to the latest IHS Markit / CIPS Purchasing Managers' Index report.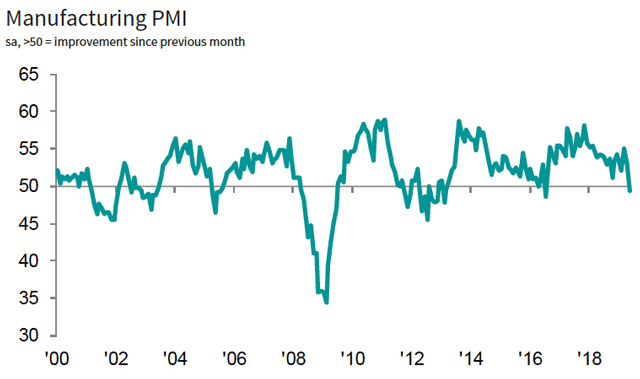 The index fell sharply to 49.4 in May compared with 53.1 in April, with manufacturers reporting increased difficulties in convincing clients to commit themselves to new contracts. This, the report suggests, mainly reflected the already high level of inventories following recent stockpiling activity in advance of the original Brexit date.
The total volume of new business placed fell for the first time in seven months and the rate of contraction was one of the fastest seen over the past six and a half years, it adds.
"New order inflows declined from both domestic and overseas markets, as already high stock levels at manufacturers and their clients led to difficulties in sustaining output levels and getting agreement on new contracts," said IHS Markit director Rob Dobson.
Chartered Institute of Procurement & Supply group director Duncan Brock added: "It has now become obvious that the stockpiling activities of the last few months were propping up the sector's performance."
The report also shows that new export business fell for the second month in a row and at the quickest pace in over four and a half years, with manufacturers reporting lower demand from Asia and Europe. Brexit uncertainty, it was reported, saw clients diverting supply chains away from the UK, leading to lower demand from within the EU.
The fresh downturn in new orders affetced both output and employment during May, the report shows. The trend in production was the weakest during the past 34 months while manufacturing employment also fell for the second month in a row.
Sub-sector data indicated that much of the weakness was confined to the intermediate and investment goods industries. These both saw output, new orders and employment move lower during the latest survey month.
Dobson said: "With these demand, purchasing and inventory trends likely to stay in play for the foreseeable future, the current manufacturing downturn may have further to run and will have negative ramifications for growth in the broader economy in the months ahead."
Brock added: "A slowdown in the global economy, and trade wars hotting up, could tip the scales even further next month and increase the likelihood that the UK manufacturing sector will remain in contraction territory."
But despite the downward trend almost half of manufacturers expect output to be higher in 12 months' time, compared to 7% forecasting contraction. Optimism was attributed to reduced uncertainty following Brexit, growth plans, recoveries in domestic and overseas demand, new product launches and using new technologies.