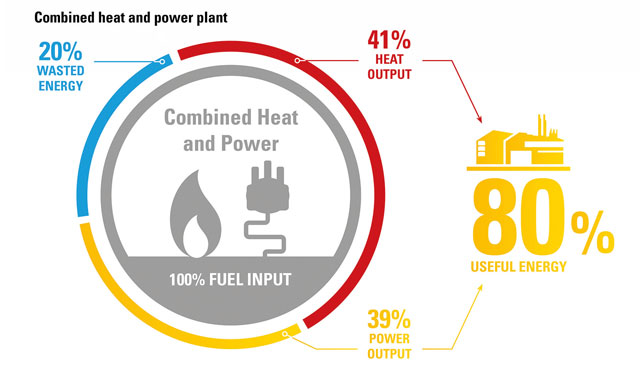 The efficiency of a CHP system can provide long-term benefits for a business. Nigel Thompson, sales manager for gas power solutions at Finning UK & Ireland, outlines the key considerations when sizing and specifying a system.
As the name suggests, combined heat and power – sometimes known as cogeneration – is a technology based on generating both electricity and heat from a single fuel source.
It is a valuable technology because producing heat and power at the same time is significantly more efficient than generating them separately. Many manufacturing plants have a large demand for both heat and power, so installing a system capable of producing both on site can bring about significant savings compared with buying power in from a utility company and relying on a conventional boiler system.
CHP units typically run on natural gas, but can also be run on biogas, coal-derived gas (such as coal mine methane and coal seam methane) and other alternative fuels. Depending on where the installation is taking place, a CHP system can either be fitted in an existing plant room or installed in a separate on-site area, typically being containerised in these locations. They can be relatively compact: for instance, a containerised 1.5MWe unit may only need a footprint of 15m x 3m, plus access space.
Studies show that by taking advantage of the heat wasted in conventional power generation, CHP plants can reach efficiencies of more than 80%. For users whose energy bills eat up substantial portions of their budgets, the increase can generate significant savings.
Specifying a CHP solution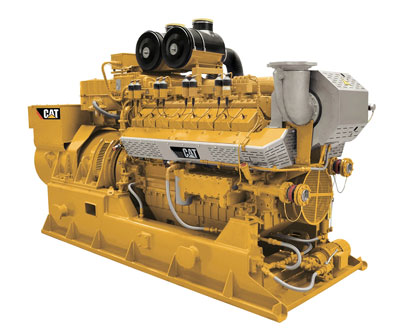 With a CHP system having, on average, a 20-year lifespan, it's critical that it is sized and specified correctly. If the system is too small, the site will have to buy in additional gas or electricity. Conversely, if the system is too big, then the heat or power that is generated may be wasted. With maintenance costs likely to exceed the initial purchase price of the unit, and fuel potentially representing as much as 75% of the overall spending, sizing and specifying a CHP solution correctly is crucial.
An energy audit will show whether a CHP system is a sound investment. The efficiency of the system will depend on the base electrical load profile of the site. Demand for electricity can vary drastically during the year, with a range of peaks and troughs. That is why electricity consumption should be calculated on the base level to make sure the CHP system can meet the day-to-day demands placed on it. A CHP solution that is too large for the application will not save money. It is also important to bear in mind that the cheapest CHP solution identified in the procurement process may not offer the best overall savings when considering total cost of ownership.
Beyond sizing a system appropriately, a number of other factors will affect the operator's return on investment. These include the cost of buying gas and electricity from a utility provider, the site's demand for heat, and whether that demand is continuous or cyclical. The distance that the heat will have to travel to reach whatever process it is needed in should also be accounted for, as any heat losses will affect the CHP system's overall efficiency levels.
It is advisable to procure an operations and maintenance contract at the same time as installation. Specifiers should seek a trusted partner with a strong track record in CHP systems, who considers the individual requirements of each site. Finning not only offers expert advice and guidance on the specification and installation of a CHP unit, but also provides an O&M contract to make sure the promised savings are achieved.
Specifying the right CHP solution can realise a range of energy efficiency and cost saving benefits, so that businesses and organisations meet their strategic, financial and sustainability goals. Though a CHP system might appear to be a significant cost at the outset, the benefits it can help realise mean that many organisations are viewing CHP as a long-term investment in the future of their business.
---
To find out more about the benefits of CHP technology,
please visit www.finning.com.