Counterfeit products could save money but cost much more in downtime, says Henkel Adhesives Division senior technology specialist Bob Orme.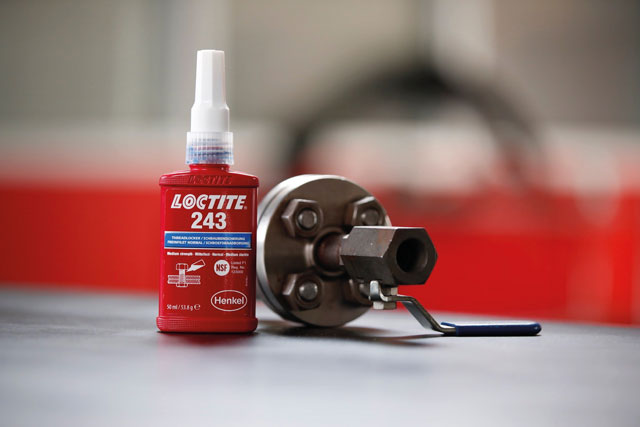 We all love a bargain – that's great if the product and discount are genuine. But what if the product isn't what it appears to be, but an inferior alternative whose specification falls short of what it imitates?
In the case of a thread locking adhesive, the outcome could be catastrophic. If, for example, the counterfeit product was used to lock a threaded assembly in a piece of equipment that was operation-critical and the mechanism failed, the cost saving would pale into insignificance when considered against potential production losses and reputational damage.
In effect, the poor performance of the forged product could nullify the very reason why the thread locking adhesive was used in the first place – to assure long-term reliability and extend the life of the assembly.
For engineering adhesive manufacture Henkel, whose brands include Loctite, this is a significant issue that extends far beyond brand protection. As recently as December last year, 103 people were arrested in China after forged Loctite adhesives valued at £5.5m were seized. The ramifications of this are far reaching, because the substandard products could have severely affected the efficiency of systems in which they were ultimately used.
Effectiveness of liquid thread locking
To prevent relaxation and self-loosening of the threaded assembly through vibration, various types of mechanical thread locking methods are available, but they all have limitations. Split pins and tab washers, for example, are only suitable for nuts and bolts. Friction devices give some resistance to vibration but do not perform well under extreme conditions.
Locking mechanisms such as tooth flanged and ribbed flanged bolts, nuts and washers are effective at preventing loosening but can damage the contact surface, need larger flange-bearing surfaces and are expensive.
Increasingly, thread locking adhesives are taking the place of traditional mechanical locking devices, because they provide the greatest all-round efficiency. They prevent unwanted movement, vibrational loosening, leaks and corrosion. They are single-component, easy-flowing liquids or semi-solid adhesives which completely fill the gaps between mating threads of fasteners and solidify to form a thermoset plastic that unitises the assembly.
The concept of anaerobic thread locking (curing in the absence of air) is a Loctite patent, and Henkel is committed to the continuous development of the technology to meet market demands. For example, the popular medium strength thread locker Loctite 243 has been upgraded to offer good bond strength on contaminated surfaces, provide higher temperature resistance and perform well on passive metals without an activator.
These benefits have widened the scope of adhesive thread locking and boosted demand for the range. However, an increase in popularity exposes the brand to greater risk of imitation, so to assure its customers that the product they are buying is indeed the real thing, Henkel has taken important anti-counterfeiting steps.
Quality assured
The first is the introduction of new, patented bottle design. It has distinctive shoulder and foot rims whose edges are textured; the brand name and logo is recessed in the shoulder moulding. This design is very difficult to replicate and is being introduced across the entire Loctite range in the coming months.
Henkel is also moving away from video-coding batch and traceability data on the bottom of bottles. The method it now employs is laser etching, which applies a permanent mark that is chemically resistant, cannot be wiped off with solvent and will not fade over time.
In conclusion, if you are involved in maintaining operation-critical systems, always check the products you are using are genuine, because the knock-on costs could be far higher with substandard alternatives.
---